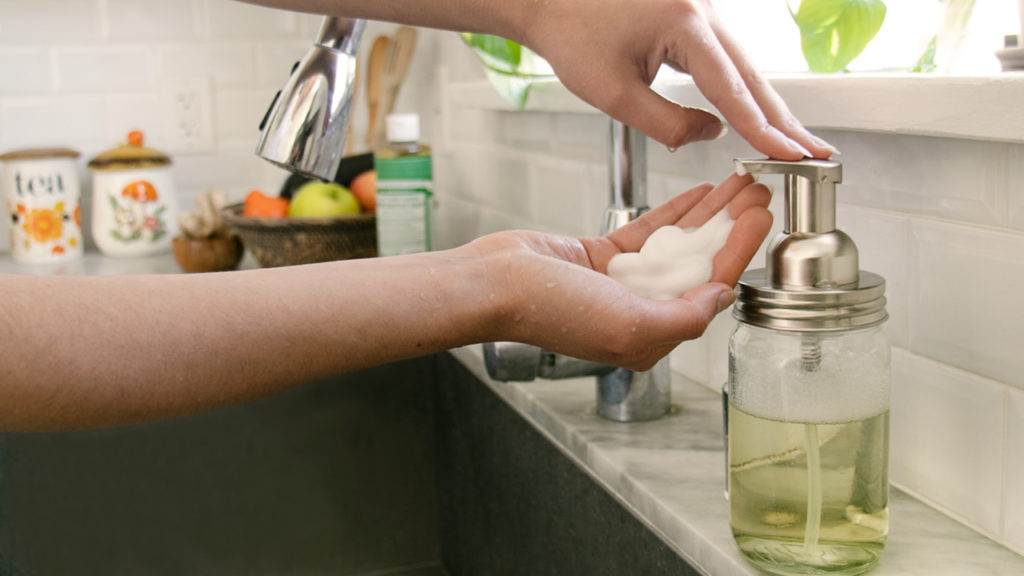 It's a sad tale. You're excited to fill your gorgeous new standard soap pump with Dr. Bronner's Pure-Castile Soap. It seems to work just fine, though it does come out a little fast. Then a few days later, when your visiting mother-in-law freshens up in the powder room, you hear a wail. The soap has squirted sideways from the pump, dousing her blouse and narrowly missing her face. The soap had dried in the pump, partially blocking the flow, redirecting the soap into the most unexpected directions and accelerating it to what must have been soap Mach 5.
Here is why we caution against using the Castile Liquid Soap in regular pump dispensers. But never fear. All is not lost.
A foaming pump soap dispenser is a different story entirely and is a super simple way to put your Castile Soap to use sink-side and elsewhere.
A foaming soap dispenser functions differently than a traditional pump dispenser. The apparatus uses a mixture of soap, water, and air. Because the soap is diluted in the bottle and then further mixed with air, it does not coat and block the tubing responsible for the unexpected and undirected jet of soap.
The result is a cloud-like dollop of soft soapy foam that cleans all manner of body parts and then some.
The foam alone is reason enough to use a foaming pump dispenser. It's just so beautifully soft and feels lovely on the skin. I'd say it's more fun for kids, but who am I kidding? I love the stuff, too. Beyond mere enjoyment there are some practical benefits to using foaming soap in the bathroom and kitchen too.
There's less mess at the sink. No more drips down the side of the bottle or pump and puddles on the counter.
It dispenses the proper amount of soap for a handwash. Only one or two drops of the undiluted Castile Soap is needed per handwashing, but it is so difficult to get only that amount out of the undiluted bottle. By diluting the soap in the foamer, the equivalent of just a drop or two of soap comes out per dollop.
It spreads easily over the hands, effectively covering all nooks and crannies. One pump of gloriously fluffy foam still contains enough cleaning power for good hand hygiene.
It is wallet-friendly, making your bottle of Castile last much longer, since you're not wasting soap due to overapplication per handwash.
Foaming soap requires less water to rinse. One study demonstrated that people use between 16% and 45% less water to wash and rinse hands with a foaming soap versus a liquid soap, while still achieving the same cleaning efficacy. That adds up! For a household of four, with each person washing hands 10 times a day, that adds up to a savings of 1100 gallons of water per year.
Converting the soap to a foam functionally thickens the soap. While there's no way to thicken Castile Soap naturally, the addition of air gives it that rich texture that keeps it from running between the fingers and dripping uselessly down the drain.
And most importantly, it avoids the rogue soap jet stream common with putting the soap, even diluted, in traditional soap pumps.
Soap in foaming pumps is not just for hands. I keep foaming pumps at all my sinks. In the bathroom, not only do I use it regularly for hands, but I use it to wash my face, as well as my silicone night guard daily. The feel of that soft foam over my skin is as soothing as it is cleansing. Lately, I've been enjoying the Lavender in my bathroom.
In the kitchen, where I generally keep the foamer filled with the Citrus Castile Soap, I'll use the foam to wash a piece of fruit, some lettuce, or my favorite mug just as often as I'll use it to wash my hands. In the shower or by the tub, this is a great way to keep kids or even sleepy adults from inadvertently dumping a wanton amount of the Castile on to their bodies for a single shower. It works for hair and body, and it's even pre-lathered! Talk about simplifying your shower routine!
Making GIY foaming pump soap
Any of the Castile Soap scents work equally well for foaming pumps. Pick your favorite – or combine two scents for a custom scent to fit the season or your mood. Peppermint and Citrus make an unexpectedly bright and peppy combo. Almond blends beautifully with all the scents. Or go with the Unscented, with or without adding essential oils of your choice.
At my house, we keep foaming soap simple. Just soap and water. Maybe a few drops of essential oils if I'm feeling fancy. There are a multitude of DIY foaming hand soap recipes out there calling for additional ingredients. Before you get to mixing in glycerin or aloe or coconut milk or what-have-you, remember that chemistry happens. Soap by its nature binds to oils, and if you put those oils in the solution with the soap, they're only going to tie up the soap so that it is unavailable for cleaning your hands. Check my post "What Can You Mix with Castile Soap?" for more on mix-ins.
Dilution:

One part soap to three parts water.
Once you've determined the volume of your solution bottle, divide the volume into fourths. Fill it with one part soap and three of those parts of water. You could use 1 cup soap to 3 cups water (makes 1 qt.), or 1/4 cup soap to 3/4 cup water (makes 1 cup), etc. You can also pre-measure into a measuring cup, then pour into the jar. If you'd like, add a few drops of essential oils to boost or create a custom scent. (Again, the soap will bind to the oils, but the aromatics of the essential oils will remain to scent the mixture.) Screw on the lid and swish gently to mix.
What kind of water should I use?
For a clearer solution, use distilled, R.O. (reverse osmosis), or otherwise filtered water. If you find your solution is cloudy after using tap water, it just means that the water is hard, and the minerals in the water – calcium and magnesium – reacted with the Castile Soap. This happens to be one of the ways you can test to see if your soap is truly a soap or if it is a detergent. Detergents don't react with hard water. It's also how you can test to see if you have hard water (use Dr. Bronner's Castile in your tap water), or even to see if your water softener is working. Whichever way you go, the cloudiness is harmless.
What kind of foaming pump dispenser should I use?
Foaming pumps are really seeing their day in the sun. There is an array of styles, sizes, materials, price points, and colors from which to choose. Glass, plastic, free-standing, wall-mounted, manual, electric.
It comes down to personal preference. If you have a foaming pump dispenser you had bought filled, clean it out and repurpose it with this GIY (Green-It-Yourself) Castile Soap solution.
A friend alerted me to pump tops that fit on standard Mason jars. She made them super-cute by tying twine around the necks and labeling them with chalk stickers. I like the weight of the glass that holds the bottle upright. One problem with plastic foaming pumps is that the pump itself makes a near empty bottle so top-heavy that it often falls over. This doesn't happen with glass.
However, for safety in the shower where it's wet and slippery, a plastic foamer is a good choice. The other day, a co-worker was waxing poetical about her touchless, motion-sensor foaming dispenser. That sounds pretty nifty, too.
With less soap per pump than a standard soap pump, do hands still get clean?
That same study I mentioned above—and I am always deeply glad there are fastidious people who study these things—shows that diluted foaming hand soap is equally effective as standard lotion soap at removing bacteria from hands. Brave participants were asked to immerse their hands in a "broth" contaminated with E. coli. After washing hands for 30 seconds (yes, that is 10 more seconds than recommended by the CDC but surely there's an extra layer of caution given these volunteers just dipped their hands in E. coli), both 0.7 mL of foaming hand soap and 1.1 mL of lotion soap showed equal cleaning efficacy.
Foaming soap dispenser solution shelf life
The shelf life of this solution is 2-3 weeks. If you don't use the solution up in that amount of time, make it in smaller batches. Our Castile Soap is naturally preserved because of its alkalinity, and we also add Tocopherols (vitamin E) as an antioxidant. Of course, when you dilute the soap, you are diluting the preservative.
Tips for keeping the pump working
When you refill the bottle, take moment to rinse out the tip of the pump where the foam can still build up and cause a blockage. Here are a few other trouble-shooting tips:
Use the pump regularly. When foam sits in the chamber for a long while, it will dry and cause the pump to clog or stick.
Follow the dilution. Too much Castile Soap or the addition of other ingredients can cause the pump to "stick".
Check to be sure there is no vacuum. If the lid is too, too tight it creates a vacuum. Unscrew the lid ever so slightly to let air in.
Dr. Bronner's Castile Soap is beautifully simple and made with a blend of oils (coconut, olive, palm, jojoba, and hemp seed) that are nourishing to our skin. It cleans hands-face-body gently and excellently. Using it in a foaming pump is one of the 18 and beyond uses of this versatile soap.
Further reading
GIY Housecleaning Wipes with Dr. Bronner's
GIY Bubble Solution with Dr. Bronner's
Bar Soap Dilutions Cheat Sheet