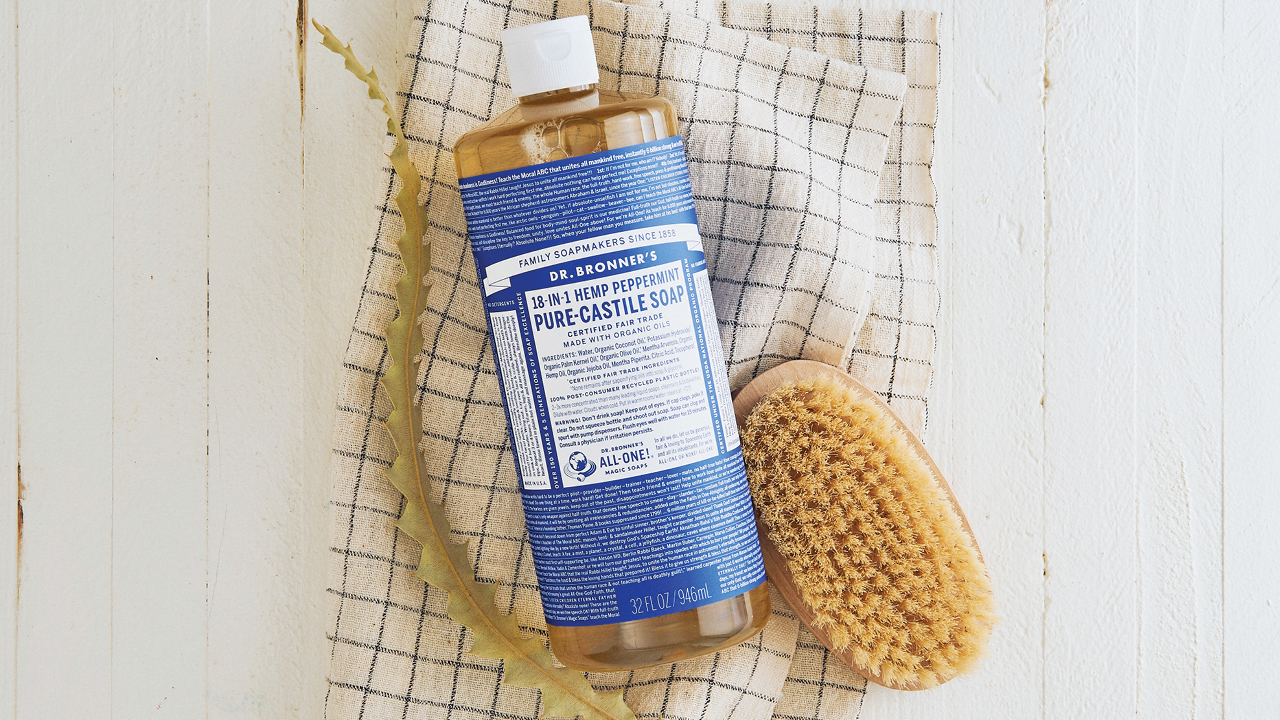 Update May 2022 —I've added a few uses to both the Sal Suds and Castile Soap Cheat Sheets. Plus: All four Cheat Sheets are now available in Spanish! (See the side bar to download or print.)
Dilute! Dilute! OK!* But how much? Here is a quick reference. None of this is a hard and fast rule. If your stuff is really dirty or your water is really hard, then you may want to use more than the recommended amount. However, this should get you started. You'll notice that for some applications, I recommend pre-diluting the Dr. Bronner's Liquid Castile Soap—combining the soap with water in a container. For other applications, the soap is diluted by the water present in the situation. It's a matter of personal preference. Keep in mind that if you predilute, you are also diluting the preservation system (tocopherols – vitamin E), so the shelf life drops. Use within a couple weeks. And yes, there are 18+ uses here.
* Long time Dr. Bronner's users will remember this expression from the old labels.
Body Uses
Face: 2-3 drops on wet hands, applied to wet face.
Body: One small squirt on wet hands or washcloth, applied to a wet body.
Foaming Pump Dispenser: Dilution of one part soap to 3 parts water.
Wipe-Off Castile Body Wash Spray: Use when running water isn't an option due to illness, large cast or bandage, or when hiking, camping, etc. Combine 1 ½ tsp. (7.5 mL) soap and 1 c. (240 mL) of Castile Soap and 1 c. (240 mL) room temperature water in a spray bottle. Spray body wash lightly on skin, and wipe with a wet (not dripping) cloth. Dry skin.
Makeup Removal: Wet face and lather several drops of soap into hands. Massage into skin. Rinse.
Hair: A couple drops for close-cropped hair or up to ½ Tbsp. (7.5 mL) for long hair, either worked directly into very wet hair or pre-diluted in a cup of water. Follow with a capful of Dr. Bronner's Citrus Organic Hair Rinse diluted in one cup (240 mL) of water or dilute apple cider vinegar in half with water.
Bath: Completely depends upon water amount, but approximately 2 Tbsp. (30 mL) soap in an average sized tub. (Doesn't bubble, but still cleans.)
Shaving: Face—10 drops; Underarms—3 drops; Legs—½ tsp (2.5 mL); Work to a lather in wet hands, apply to area.
Teeth: 1 drop on a toothbrush. (Yes, it tastes like soap.)
Oral Appliances: Removable retainers, nightguards, etc. & dentures: Wet device. Add 1-2 drops of soap to a soft toothbrush. Brush gently, then rinse.
Foot Bath: ½ Tbsp. (7.5 mL) in a small tub of hot water.
Clearing Congestion: 1 Tbsp. (15 mL) Peppermint or Eucalyptus Castile soap in a bowl of steamy hot water. Breathe in mist with a towel draped over the head.
Household Uses
Dishes (Handwashing): Pre-dilute 1:10 with water. Squirt on a scrub brush. Alternatively, add 1-2 Tbsp. (15-30 mL) Castile Soap in a large sink of water. Use a small squirt of soap for one pot, or more if needed. To avoid water spots in hard water conditions, dry dishes by hand.
Laundry: 2–4 Tbsp. (30–60 mL) for HE washers. Add ½ c. (120 mL) vinegar to the rinse cycle. Optional: For whitening/deodorizing, add ¼ c. (60 mL) baking soda to wash cycle. Double these amounts for standard washers.
Handwashing Delicates: 1 capful (1 Tbsp. or 15 mL) Castile Soap in about 1 gallon (4 L) cold water. Swish gently. Let soak 10 minutes. Swish again. Rinse with clean water. Gently press out excess water with a towel. Hang or lay clothing flat to dry.
Mopping (Wood, Laminate, Vinyl, Stone & Tile Flooring): 2 ½ Tbsp (38 mL) of soap in 1 gallon (4 L) of hot water. Dunk mop (microfiber, preferably) and wring thoroughly. On wood and laminate, avoid excess water and mop up wet areas.
For smaller areas, add 2 tsp. (10 mL) Castile Soap to a quart (1 L) of water in a squirt bottle.
All-Purpose Cleaning Spray:¼ c. (60 mL) soap in a quart (1 L) of water in a spray bottle. Optional: For extra microbial punch, add ¼ tsp. (1.25 mL) tea tree essential oil. Use on any surface that is safe in contact with water-stone countertops & tile; wood (painted or sealed, not waxed); plastic toys and such; stainless steel; sinks & toilets; and more!
Windows: 1 Tbsp. (15 mL) soap in a quart (1 L) of water in a spray bottle. Spray and squeegee. Follow up with pure club soda, or half vinegar/ half water and squeegee.
Toilet: Predilute 1:4 with water in a squirt bottle. Add ¼ tsp. (1.25 mL) tea tree oil. For best results, empty toilet. Spray or squirt 2-3 drops of Castile Soap directly on toilet brush. Sprinkle baking soda on the brush, scrub bowl, let sit 10 minutes, turn water on, flush.
Other Uses for Liquid Castile Soap
Fruit & Veggie Wash: 1 dash (approx. ¼ tsp.) in a bowl of water. Dunk produce and swish. Then rinse in clear water.
Dog Washing: Wet dog thoroughly. Massage in enough soap to create a good lather. (Amount varies based on size, hair type, and overall dirtiness.) Really massage it in down to the skin. Your dog will thank you for it. Rinse thoroughly.
Cleaning Makeup Brushes: Wet the make-up brushes in water. Add 1-2 drops soap to the bristles. Massage in gently for 10+ seconds, then rinse. Repeat as needed until water runs clear.
Plant Spray for Bugs: 1 Tbsp. (15 mL) in a quart (1 L) of water. Optional: Add ½ tsp. (1.25 mL) cayenne pepper or cinnamon. Spray plants twice daily in the cool of the day until infestation clears.
Ant Spray (Not on plants): ¼ c. (60 mL) Tea Tree Castile Soap in a quart (1 L) of water. (This concentration will burn plants.)
I've tried to keep this short and sweet. If you have any questions, please ask away!
Not sure when to use Sal Suds or when to use Castile Soap? Head over to my blog post, Sal Suds or Castile Soap—Which to Use?
If you're interested in using the Castile Bar Soap for house cleaning, check out my Bar Soap Dilutions Cheat Sheet.
Further reading
Sal Suds or Castile Soap – Which to Use?
GIY All-Purpose Cleaning Spray