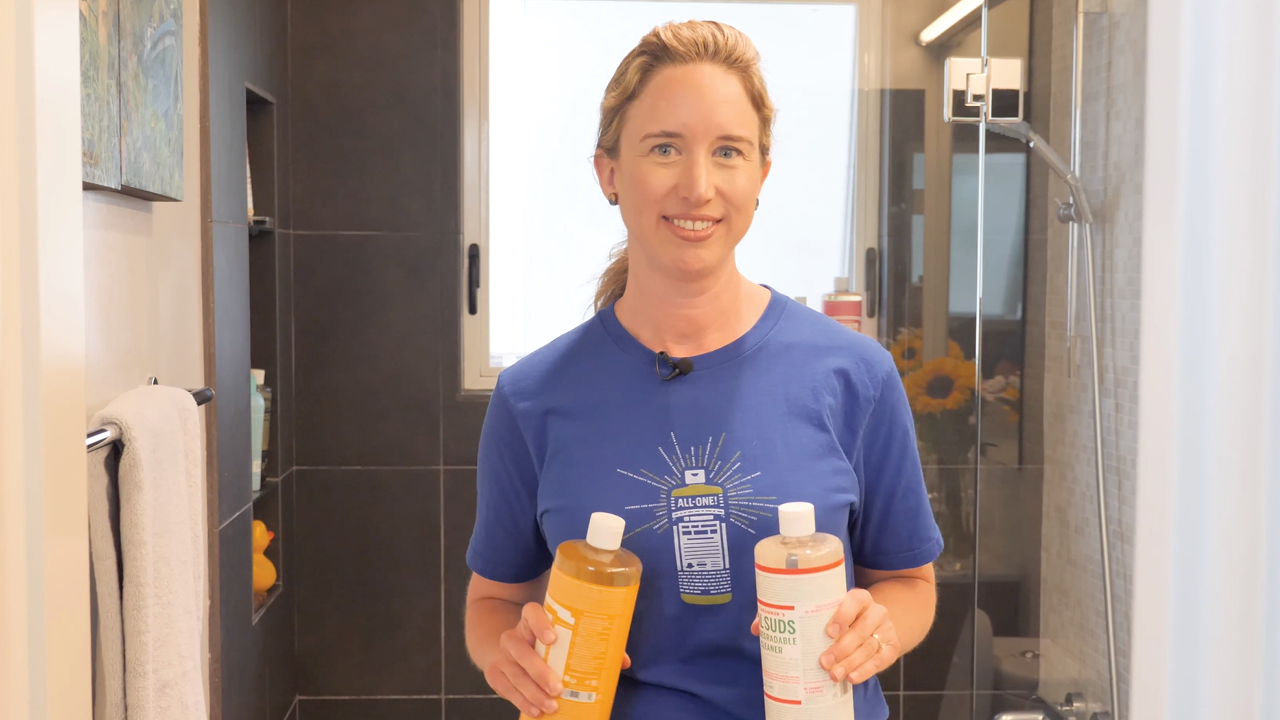 Every so often I get the joy of sharing subjects very close to my heart. This is not one of them.
How to use Dr. Bronner's products to clean toilets is a common question I get, and hopefully a regular task for all of us.
As I say in the video, toilet bowl cleaner was the last conventional cleaning product I gave up in my green transition. I liked the color, I liked the smell, I liked the peace of mind. Yeah, it sounds like I was a little too cozy with my toilet bowl cleaner.
Even though cleaning ingredients don't have to be listed on a label and rarely are, the required hazard statements you find readily on bowl cleaners give you enough of an idea that this is not-nice stuff. Go ahead and read a few. I'll wait.
Eventually, I couldn't ignore the fact that toilet bowl cleaner is one of the harshest of household cleaners. All it would take is one "Oops" from me, or a kid or a dog getting somewhere they're not supposed to, which happens, and I'd have a real problem. Plus I have a septic system which relies on helpful bacteria and enzymes to work. Killing them all with bleach is entirely counterproductive.
Methods
There is more than one way to do this. Do you prefer Sal Suds? Castile Soap? Pick whichever method, whichever product you like best and gets the task behind you.
To begin with, if you'd like, turn off the water to the bowl and empty with a flush. This is entirely optional. Many household toilets have a valve at the wall that you can twist. Emptying the bowl lets the cleaner sit on the walls of the bowl without being diluted in the water.
Method 1: Make an All-Purpose Spray with Dr. Bronner's Castile Soap (1/4 c. [60 mL] in a quart [1 L] of water) or Dr. Bronner's Sal Suds Biodegradable Cleaner (1 Tbsp. [15 mL] in a quart [1 L] of water) with 20 drops Tea Tree essential oil (optional). Spray the bowl thoroughly and brush with a toilet brush.
Method 2: Squirt a very small amount of the undiluted Castile Soap or an even smaller amount of the Sal Suds directly on to the toilet bowl brush. Brush the bowl thoroughly.
Boost for Methods 1 or 2: For extra scrubbing, sprinkle baking soda onto your toilet brush before scrubbing.
Method 3: Science up a batch of GIY Soft Scrub with the Castile Soap. Squirt that around the bowl, under the rim and brush well.
Whichever method you choose, once you brush the bowl, let cleaner sit there for about 10 minutes for maximum effectiveness. Then give the bowl a final scrub, turn the water back on if you turned it off, and flush.
Let's wrap up with a little relevant middle school humor. Welcome to my world.
The police station toilets were stolen. Investigators have nothing to go on.
Ok. I'll stop.
Why do you never hear a pterodactyl go to the bathroom? Because the P is silent.