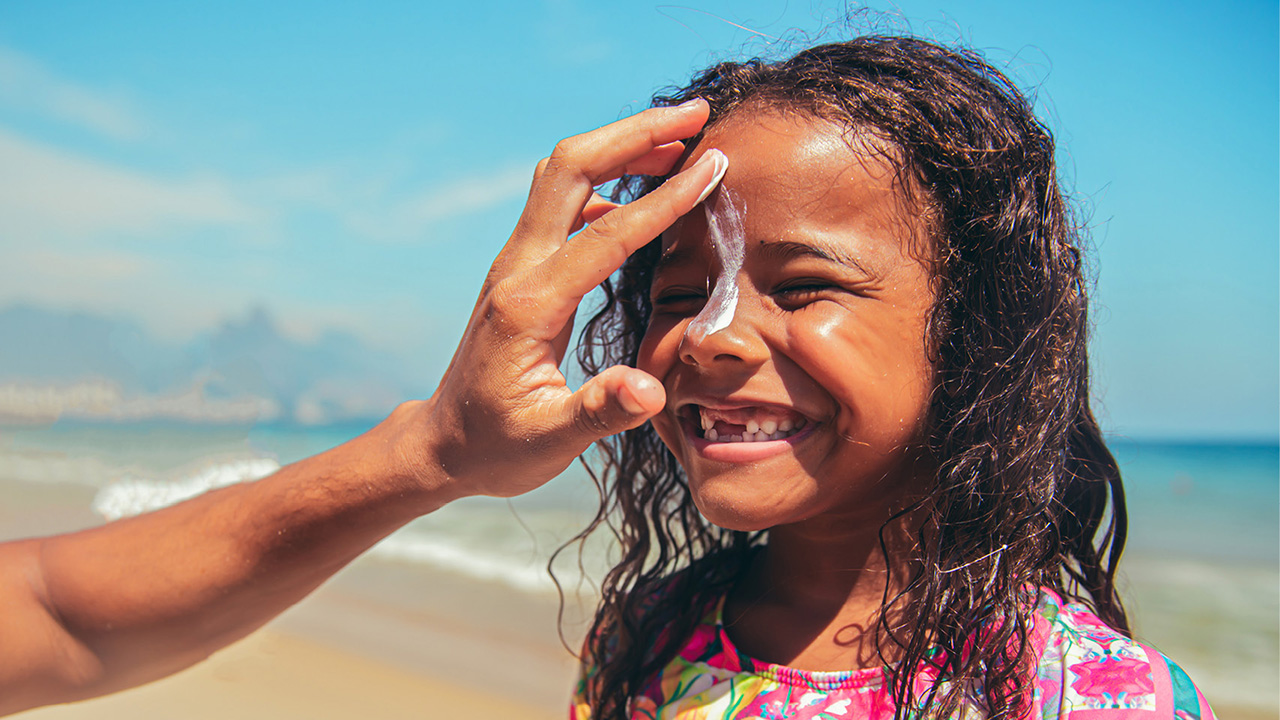 Updated June 2020 to incorporate new research and new regulations.
Sunscreen is no longer a summertime thing. Since I first wrote this, I've had my first brush with skin cancer. That round was quickly remedied, but it sharpened my focus on the role sunscreen will play in my life – both on a daily basis and on more intense sun-filled summer fun days – and ushered in the life-long relationship I'll be having with my dermatologist.
Picking out a sunscreen is harder than it sounds. Standing in the sunscreen aisle – yes, it's a whole aisle – hopes for a simple grab & go quickly fade. We ask so much of sunscreen. We want it to be an impenetrable barrier for all UV rays – while also being invisible, good-smelling, easy to apply, reef-safe, and easy to wash off. Amidst myriad unpronounceable ingredients, the labels are full of promising multi-tasking: bug-repelling, anti-aging, nourishing. It's not a simple choice.
One thing that has helped is that after decades of sunscreen silence, the FDA has been taking a slightly more active role in monitoring sunscreen. They issued statements in 2012 and 2017 regarding the need for broad spectrum coverage and the removal of false assurance of "suntan" and "sunblock." (The former is not a good thing, and the latter is impossible.) However, even by 2019, they declined to decide one way or the other on the safety of 12 of the 16 most common sunscreen active ingredients, include the very common oxybenzone, octinoxate, octisalate, octocrylene, homoslate, and avobenzone. (Those may sound like a mouthful but look for them – they're everywhere.) The only common ingredients given the G.R.A.S.E. – generally regarded as safe and effective – status are zinc oxide and titanium dioxide. Much is still left up to consumers to learn and decide for themselves.
What I Choose
Personally, I look for mineral based sunscreens (zinc oxide & titanium dioxide), SPF between 35-50, with few total ingredients, no retinyl palmitate, no parabens, no fragrance. Did I mention it takes me about three hours to buy sunscreen each year? I have to set aside an evening on my calendar.
To help you navigate the options, I have tried to summarize reliable information about sunscreen for a quick(er) read. For a whole lot more info, click on the links throughout. Before we get into the nitty-gritty of ingredients, let's make a few things clear.
The Sun Shines Every Day
Even if it's raining, the sun is shining, even if only above the clouds. This miracle that makes life possible is powerful. You're in the sun when you walk to your car, watch your kid play soccer, get the mail, go out for lunch, or run errands. Thus stems the need to wear sunscreen every day.
You Can't Depend on Sunscreen Alone
The best sun protection involves a multi-faceted approach, including timing, clothing, shade, and sunscreen. Sunscreen should be the last resort, not the first.
Timing: Avoid the midday sun – between 10:00 am and 4:00 pm.
Clothing: Wear a hat, long sleeves and pants, or cover-up when possible in the sun. For the most sun protection, opt for fabrics with a UPF (Ultraviolet Protection Factor) of 30 or higher. In lieu of that, choose loose-fitting, dark or brightly colored clothing in a densely woven fabric. Fortunately, as the need for UV protective clothing has emerged, so has the supply of styles and colors.
Shade: Use an umbrella at the beach or poolside, or a shade tree at the park.
Sunscreen: Choose a sunscreen with broad spectrum coverage and minimal side effects. More info below.
Wearing Any Sunscreen is Better than Not Wearing Sunscreen
Whatever gets you to wear sunscreen is a huge plus to outweigh possible risks. The negative effects of sun exposure without sunscreen are undisputed.
There is No Perfect Sunscreen
I cannot give you a specific sunscreen to buy because it is all a risk/benefit analysis between SPF, active and inactive ingredients, application ease, and cost. There's a lot left to personal preference.
The good news is that with the increased scrutiny of sunscreen, and with increased consumer awareness of ingredient hazards, there are more good sunscreens on the market than ever before. These can even be found in mass market stores.
Read Ingredients Every Time You Buy
This frustrates me every year! Thus, my annual three-hour bout in the sunscreen selection ring. Many sunscreen manufacturers change formulations from year to year. Even within the same line, ingredients can be completely different from one product to another. Kids SPF 50 Sport and Kids SPF 50 Waterproof may not have any active ingredients in common. Read all ingredients for every bottle, each time you stock up. I wish I could make it easier.
Common Sunscreen Active Ingredients Ranked Best to Worst, According to the Environmental Working Group's Skin Deep database and The Skin Cancer Foundation:
| | | | | |
| --- | --- | --- | --- | --- |
| Ingredients | EWG Ratings | FDA Safety & Efficacy Statement | UV Rays Blocked | Notes |
| Avobenzone | 2 | Undetermined | UVA – very effective | Breaks down easily in sunshine leading to allergic reactions, no hormone disruption, some penetrations |
| Mexoryl SX | 2 | Undetermined | UVA | Low skin penetration, no hormone disruption, low allergy risk |
| Titanium dioxide | 1-6 (higher risk from inhalation of powders /sprays) | G.R.A.S.E. (generally regarded as safe & effective) | UVA; some UVB | Low skin penetration, but harmful if inhaled |
| Zinc oxide | 1-4 (higher risk from inhalation of powders /sprays) | G.R.A.S.E. | UVA & UVB | Low skin penetration, but may contain nanoparticles, can be whitish & hard to rub in |
| Ensulizole | 2-3 | Undetermined | UVB | Uncommon ingredient, low risk of hormone disruption or allergies |
| Octisalate | 3 | Undetermined | UVB | Generally safe, but is a penetration enhancer |
| Octocrylene | 3 | Undetermined | UVB | Produces oxygen radicals in UV light |
| Sulisobenzone | 3 | Undetermined | UVB; some UVA | Penetration enhancer |
| Homosalate | 4 | Undetermined | UVB | Weak hormone disruptor, forms toxic metabolites, can enhance penetration of a toxic herbicide |
| Octinoxate | 5 | Undetermined | UVB | Some skin allergy, hormone-like activity, skin penetration, harmful to reefs |
| Padimate O | 6 | Undetermined | UVB | PABA derivative, releases free radicals, damages DNA, estrogenic activity, & potential allergen |
| Aminobenzoic acid (PABA) | 7 | Not safe | UVB | Strong link to allergic dermatitis & photosensitivity, carcinogenic potential |
| Oxybenzone | 8 | Undetermined | UVB; some UVA | Hormone disruptor, linked with photoallergic reactions, high skin penetration, harmful to aquatic life & reefs |
Other Sunscreen Factors to Question:
SPF over 60 – Studies have not shown increased efficacy in SPFs marked over 60, which can give a false sense of security and be a marketing gimmick.
Retinyl Palmitate (vitamin A) – An inactive ingredient often touted as giving anti-aging benefits to a product, but in the presence of sunlight encourages tumor growth. Look for it toward the bottom of ingredient lists, and avoid it.
Spray & Powder Sunscreens – These pose an inhalation risk. They give convenience but trade the risk of ingredients being absorbed through the lungs that aren't easily absorbed through the skin.
"Organic" Sunscreen – None of the active sunscreen ingredients can be organic – they're either mineral or synthetic chemical. Perhaps some of the inactive ingredients are organic, but make sure it's not a gimmick. There's little oversight of organic claims in personal care.
"Waterproof," "Sweatproof," "Towelproof" – These terms are proving to be false. All sunscreens are diminished by swimming, sweating, or toweling off. Sunscreen needs to be reapplied after swimming, sweating, and/or every 2 hours.
"Chemical-free" – I haven't a clue what this term means. Perhaps it means "toxic chemical-free" or that the active ingredients are minerals (zinc and titanium). Still read the ingredient list to find out.
"Natural" – "Natural" on a label always means "nothing." Ignore it.
"Reef Safe" – Meant to indicate ingredients don't harm delicate coral reefs, but there is no agreed-upon definition. Because this term isn't strictly regulated, sunscreen manufacturers aren't required to test and demonstrate that such products won't harm aquatic life. Mineral sunscreens pose less risk than chemical.
Additional Tips:
Don't ask too much of your sunscreen beyond blocking the sun, whether it's anti-aging, self-tanning, wrinkle smoothing, bug repelling, make-up foundation… It's better to have one product that does each thing well (blocking the sun), rather than doing two or more things less-than-well.
Apply sunscreen 20-30 minutes before sun exposure. Use 1 oz. of sunscreen at each application for the whole body. One ounce is two tablespoons, half a shot-glass, enough to fill an adult's hand. It might be the whole tube of travel-sized sunscreen. Yes, that's a lot. This is how it is intended to be applied, and any promise of protection is for this amount of application. It's a bother, but think long term here.
Keep an eye on expiration dates if you tend to hang on to sunscreen for a long time. They do lose efficacy over time.
Additional Resources & More Reading
Sunscreen Glossary:
Active Ingredients – The ingredients that are screening the sun's rays. These are listed separately from inactive ingredients.
Broad Spectrum – Indicates the sunscreen blocks both UVA and UVB rays.
Chemical Sunscreen – Refers to sunscreens where the active ingredients are not minerals but synthetic chemicals.
Hormone Disrupter – A chemical that mimics or interferes with the body's regulation of hormones.
Mineral Sunscreen – Refers to sunscreens where the active ingredients are minerals (zinc oxide or titanium dioxide) that provide a physical barrier against the UV rays.
Nanoparticles – Particles smaller than 100 nanometers (nm); concern on the harmfulness of nanoparticles absorbing through the skin is mixed.
Penetration enhancer – Something that helps other chemicals penetrate the skin.
Radicals or Free-radicals – Atoms, molecules, or ions that have unpaired (i.e. free) electrons. They are highly chemically reactive and can cause DNA damage.
SPF (Sun Protection Factor) – A measure based on the time it takes for UV-exposed skin to redden. For example, if you sunburn after 20 minutes, an SPF 15 sunscreen may protect your skin 15 times longer (if used properly). SPF only measures UVB, not UVA.
Sunblock – A term recently banned by the FDA because it gives a false sense of security. No product will completely block the sun's rays.
UPF (Ultraviolet Protection Factor) – A term for clothing to indicate how much UV radiation (both UVB and UVA) a fabric allows to reach your skin.
UVA – The sun's rays which cause photo-aging, wrinkling, immune suppression and skin cancer.
UVB – The sun's rays which cause sunburn and skin cancer.
Helpful Resource for Sunscreen Information and Selection:
If you're looking for a safe way to sunbathe and get a good tan, there isn't one. Find another dream. Healthy skin color comes from eating right, exercising regularly, getting enough sleep, and laughing.