Are you new to green cleaning or deeply immersed? This list of 13 essential green cleaning ingredients will clean your house and all its many surfaces and scenarios.
Let's start with a little cleaning primer. There are three main ways things get clean:
Thermally: Using heat (or less commonly cold)
Mechanically: Using physical force (wiping, scrubbing, agitating)
Chemically: Using the properties of atoms and molecules & how they interact
Combining two or more of these methods get things cleaner in safer ways. For example, washing towels involves laundry soap (chemical), hot water (thermal), and agitation (mechanical). Washing dishes uses soap (chemical), scrubbing (mechanical), and hot water (thermal). Although the word "chemical" often carries a negative connotation, even green cleaners like Castile soap, alcohol, or hydrogen peroxide work via the magic of chemistry and therefore are chemical cleaners.
Problems arise when we try to rely on one of these methods alone. Then, we have to use a more extreme form. For example, in pursuit of convenience, we have a plethora of products advertised to clean with no wiping or other input from us. This is cleaning by chemicals alone, which necessitates a more intense chemical, posing more hazard to your health. We have exchanged safety for convenience.
Furthermore, in an ill-advised effort to rid our homes of every germ possible, we have travelled too far down a toxic chemical pathway. Not only is the goal of complete germ eradication impossible, the attempt exposes us to harmful residues and vapors and may contribute to the emergence of antibiotic-resistant bacteria. Soap and water is the recommended surface cleaner by major health groups – such as the CDC and WHO – and has been confirmed as effective in study after study after study.
What makes an ingredient green?
My definition of green harkens back to my mom's advice: Leave the place better than you found it. The places we're leaving are our earth, our homes, and ourselves. So, a green cleaner must do the following for each:
My Earth: Be sustainably sourced & biodegradable
My House: Be effective
My Body (& bodies around me): Be harmless
You'll notice some ingredients missing from my list, even though they often hang around other green conversations. For example, I am not a fan of borax because although it is sustainable, biodegradable, and an effective cleaner, it is toxic to people as both a skin and lung irritant. Baking soda works perfectly fine for me in all the same ways – gentle abrasive for scouring, laundry booster for whitening and deodorizing – with no harm to me or mine. If you notice anything else missing that you're curious about, feel free to ask.
GIY (green-it-yourself) ingredients
1. & 2. Dr. Bronner's Castile Soap and Sal Suds Biodegradable Cleaner – I thought about just saying "Soap" here, but there's too much wiggle room in the use of that word, so I'll be specific. Soap is such an old substance, with evidence of it dating back millennia, and yet is still the recommended cleaner of today. Both the Pure-Castile Soap and the Sal Suds are surfactants, which means they are surface active agents, and work by latching on to germs, grime, and dirt, forming encapsulating spheres around them called micelles, and then whisking them away. This is their magic, and no other substance does this. Other types of cleaners may kill or whiten or deodorize, but they do not remove. Therefore, whatever has been killed, whitened, or deodorized is still there. With soap, or surfactants, they're gone, which is why these ingredients are essential to the green cleaning arsenal. Although often interchangeable, there are some distinct uses for Castile Soap and for Sal Suds, which I go over here.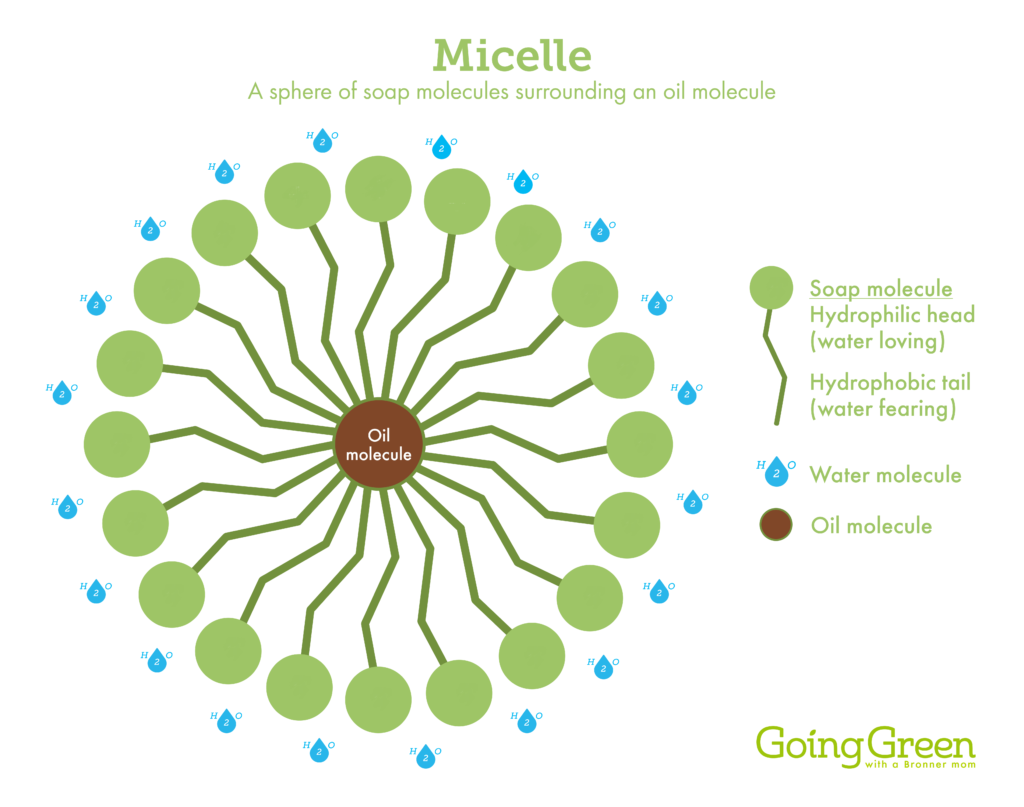 3. Baking Soda – If you haven't already, you'll have to move your stash of baking soda from your pantry to your cleaning cabinet. Or better yet, buy a big bag for your cleaning cabinet. Baking soda – aka sodium bicarbonate – is a deodorizer and whitener, as well as a gentle abrasive. This makes it useful as a laundry booster (1/2 c. per load), for scouring bathroom & kitchen surfaces (sprinkle on & spray with All-Purpose Spray), freshening carpets & upholstery (sprinkle in, vacuum out), making scrubbing pastes (mix with water), and deodorizing the air in fridges (just a cup). Poultices made from water and baking soda lift stains from countertops, stainless steel pots, and glassware.
4. Vinegar – Vinegar is an acid that uses the power of pH to clean. Its chemical name is acetic acid, with a pH around 2. It lifts greasy fingerprints, dissolves hard water minerals that cause water spots and stiff clothing, and penetrates soap scum on sinks and tubs. It is useful in cleaning glass windows or mirrors as well as bringing shine to bathroom fixtures (1:1 with water). It is great as a rinse aid for laundry (1 cup/load) and dishes. It is useful in reacting with the alkaline baking soda to create foam for Karen Logan's excellent GIY soft scrub or clearing out drain grime (though it will not dissolve blockages).
While vinegar is a GIY cabinet essential, it does not do everything. When it comes to disinfecting, vinegar does not kill a broad enough range of pathogens to be relied upon. Also, the acidity can damage quite a few surfaces from soft stones such as marble and limestone to rubber, cast iron, smart screens, wood finishes, and car wax. This is why it is not the best option for washing car windows (use club soda instead), and why soft stone counters should be washed with Castile Soap or Sal Suds. Furthermore, vinegar does not have soap's strength to carry particles away.
All that to say, use vinegar wisely and well.
5. Lemons – If you have an abundant lemon tree, you have a great cleaning ingredient right there. The juice freezes well for use all year. Lemon juice is an acid with a slightly lower pH than vinegar. However, because it contains more sugars, it is not shelf stable. If not refrigerated, a bottle of lemon juice will ferment, outgas, and explode. Ask me how I know.
Fresh lemons and fresh lemon juice have various uses. Fresh lemon juice should be strained well to remove all pulp – a coffee filter works great. Like vinegar, use lemon juice to dissolve water spots, cut soap scum, and degrease. You can create a scented vinegar by soaking lemon rinds in a mason jar of vinegar for a few days. Running sliced lemons through the garbage disposal cleans and deodorizes. Microwaving a quartered lemon for 2 minutes – and then letting it sit closed for 5 – will loosen the most stubborn microwave grime.
6. Alcohol (Isopropyl/Rubbing or Ethanol) – Alcohol at a strong enough concentration is a disinfectant, and has been registered as a disinfectant with the EPA longer than my lifetime. While the concentration of drinking alcohols is not high enough (sorry, you can't clean your house effectively with vodka), you can find 70% or 90% easily in the pharmaceutical aisle. 100% is not recommended because it evaporates too quickly to be effective. CDC recommends washing surfaces with soap and then spraying with a disinfectant. Do not skip that first step, but if indeed you have washed with soap, spray the surface with the alcohol and let it airdry.
7. Hydrogen Peroxide – That humble little brown bottle that hides in the pharmacy's First Aid aisle has some household uses, too, as a disinfectant and a bleaching agent. Allow me to indulge my etymological nerdiness and point out that the molecular structure of hydrogen peroxide can be found in its name: a hydrogen atom per oxygen atom, grouped as a foursome: H2O2. This is a highly unstable molecule that is eager to kick out that extra oxygen atom to become good ol' water. (Thus the dark brown bottle – light destabilizes the molecule leaving you with nothing but water.) That free-floating oxygen readily attaches to organic, or protein based, stains and pulls them off whatever they're on. If it doesn't find a stain, it just bubbles off into the air. Because of its ability to bleach, you want to exercise care in using hydrogen peroxide freely. Spot test each surface before use.
Combining it with baking soda makes a powerful stain lifter. This works on grout: sprinkle on the baking soda and then spray with hydrogen peroxide – scrub and let sit 10 minutes before mopping off. The baking soda poultice mentioned above becomes even more powerful if you make it with hydrogen peroxide instead of water. Use this on stained pots, glassware, and light marble.
Hydrogen peroxide has long been recognized by the EPA as an effective antimicrobial in many and diverse applications. For household use, generally it needs to sit on surfaces for 1 minute, or whatever the packaging says, before wiping. (Test colorfastness first!) Normal pharmacy grade Hydrogen Peroxide is 3% concentration but can be diluted down to .5% for a disinfecting spray (that's 1 part H2O2 to 5 parts water). Hydrogen peroxide is available in higher amounts, so be sure to take note and dilute accordingly.
8. Essential Oils – Essential oils can boost a cleaner's efficacy and make housecleaning more fun by letting you personalize your scents. Who doesn't want to make housecleaning more fun? I am not going to do an oil-by-oil rundown because that could fill a book, but know that essential oils are extremely varied in their use and hazard level. The one I most use is Tea Tree oil, which is an antimicrobial booster, which I add to All-Purpose Sprays, mopping, housecleaning wipes, and laundry at a rate of about ¼ tsp per ¼ cup of soap. Other essential oils I often use for fun include lemon, sweet orange, peppermint, lavender, and eucalyptus. Just a few drops will scent your solution; more will distract the soap from attaching to surface grime.
9. Salt – Salt comes in handy for its ability to scour while not reacting. In the kitchen, scrub stubborn pot stains with a little salt, especially cast iron where soap would damage the seasoning of the surface. Salt on fresh oven spills helps them lift easily when cool, and I am currently learning more about the uses of salt on various fabric stains. Salt is very abrasive, though, so I do not recommend it on etchable surfaces such as tile, stone, or acrylic.
Under recognized but important green cleaners
10. Heat – Heat has an important role in effective green cleaning. Hot water helps loosens the hold grime can have on surfaces, be it dishes, floors, or fabrics. While only extreme heat can kill microbes (think autoclave), hot-to-the-hand water (around 130 F/55 C) can help loosen grime and boosts the cleaning ability and speed of a soap or surfactant. The extreme heat is also the active cleaning agent of self-cleaning ovens. Useful ways to include heat include using rags dipped in hot water to wipe counters, mopping with hot water, using steam mops on tile floors, or boiling baby bottles. Washing laundry hot can loosen more grime from fabrics and hot dryers can deactivate microbes as well as mites. Keep in mind, though, that heat may degrade fabric faster. Boiling water poured from a kettle can also kill small weeds in your driveway. Do take care though with using heat and steam so as not to burn yourself.
11. Time – When it comes to cleaning, time is your friend. With all three cleaning methods – chemical, thermal, and mechanical – the longer the method is employed, the more cleaning it will accomplish. This is most important on surfaces that perhaps are ickier: meaty cutting boards, toilets. Spray a cleaner on them, scrub, and let sit for 10 minutes. Time also helps with surfaces that are hard to clean. Most microbes on inanimate surfaces die within a day or two. So if you can't clean the surface, for whatever reason, isolate it and eventually the germs will die. While time alone cannot remove dirt, grime, or dead germs, it can still be part of a successful cleaning regimen.
12. Sunlight – The UV rays of the sun aid both disinfecting and bleaching. While not enough alone to clean thoroughly, sunlight gives an extra boost of clean to an object like a wooden cutting board or even the air itself, and is a great tool for whitening whites. Sunlight is a low-energy way to dry your laundry. So let the sun shine in!
13. Fresh Air – I cannot overstate the importance of fresh air for a clean home. We focus so much of our energy on cleaning surfaces, when it is the air itself with which we come into much greater and more constant contact. In the name of efficiency, our building methods have become so successful in sealing our homes. The downside has been that our indoor air pollution levels have increased, making our indoor air more polluted than outdoor air. We did the job too well. Indoor air can contain viruses, bacteria, molds, mildews, animal dander, volatile organic compounds (VOCs), mite particles, smoke residues, cleaning and cosmetic product residues, and pesticide residues. Fortunately, the solution to all this is simple: bring as much fresh air into your home as possible.
Opening windows to flush out the air is best, but when that is not possible, use air purifiers, exhaust fans, and HVAC fans set on "On" instead of "Auto" that circulate the air through filters even when the heat or cool is not on.
Some green ingredients don't mix well
Just because these ingredients make it on my GIY ingredient list does not mean they play well together. Some do, others don't. Here are some that really don't mix well:
Soap & vinegar (or lemon juice) – The acid unsaponifies the soap and forms a gloppy useless mess.
Vinegar & hydrogen peroxide – Forms paracetic acid, a highly corrosive acid which can cause irreversible damage to the skin, eyes, and lungs.
Sal Suds & vinegar – Vinegar does not react with Sal Suds, however, when we tested a mixture of these two, we found that Sal Suds mixed with vinegar is less effective at cleaning than Sal Suds alone.
For a more complete list of whether things mix with Castile Soap, check out this post.
Green ingredients can't make non-green ingredients green
Another thing I've heard through the years is people trying to "greenify" non-green cleaners by adding green ingredients. I'm talking about sodium hypochlorite, aka chlorine bleach. It doesn't work that way. Bleach is highly reactive and nothing makes it safer. Some serious chemistry happens when you mix chlorine bleach with soap (forms a caustic, highly irritating soap), vinegar (forms chlorine gas), or alcohol (forms chloroform). Don't mix anything into bleach. (Also good to mention specifically not to mix bleach with ammonia, neither of which are green and together form mustard gas.)
And That's It
To me this is a pretty simple list, but then I'm used to it. I've been green cleaning for a while. Perhaps you're thinking, "Yeah, I already knew all that." Perhaps your mind has been blown. Let me know if you have any questions!