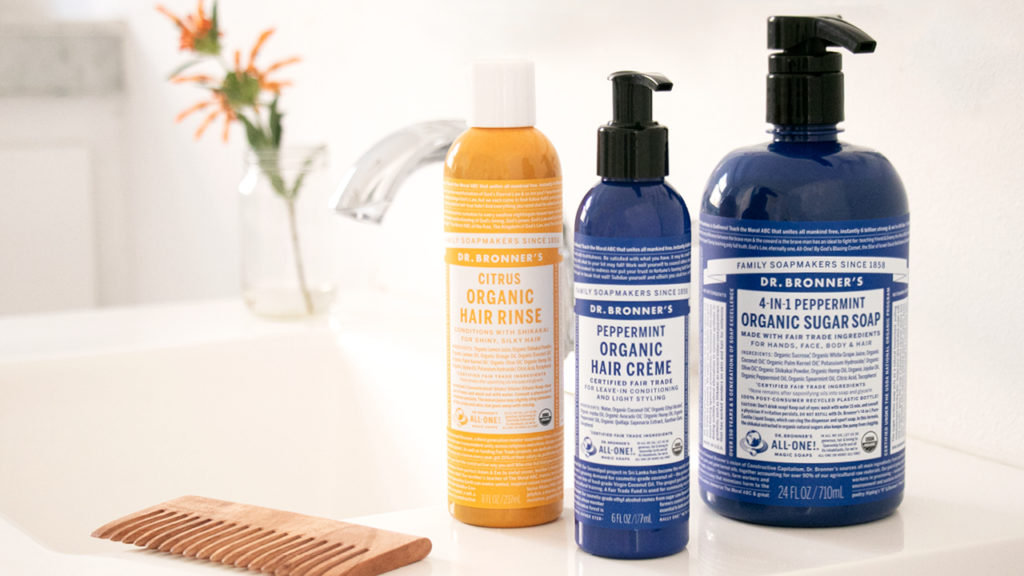 Here's the problem. All the bad guys I mentioned in my post about ingredients are in shampoo. Common among them are SLES and other –eth's. (linked to the carcinogenic byproduct 1,4 Dioxane). There's another realm of common shampoo ingredients called "quats" which stand for quaternium compounds. These little lovelies are linked to another carcinogenic byproduct – formaldehyde. However, this is our hair we're talking about. How much variance from conventional products can it take? As moms we've often already accepted that parts of our bodies will never be what they once were. Do we really have to give up our hair, too, in order to be truly healthy?
When my brother first started talking about using the Pure-Castile Soap and Organic Sugar Soaps for hair, I really thought he was taking things a little too far. I can hardly exaggerate my skepticism of this idea. Personally, I am a sucker for those shampoo commercials with the slow-motion shots of luxurious, strong, super-shiny hair. Despite what I know about what's in conventional shampoos, I just couldn't give it up in exchange for what I figured would be a head of dull and tangled frizz.
Hair rinse options
Once the Organic Hair Rinse was fully produced and marketed, I finally bit the bullet and gave it a shot. At least I could pronounce all the ingredients and was familiar with them. At the time I was responding to customer service emails, and I needed to know first-hand what we were selling.
It took some tinkering initially, but I landed on a routine that works for my hair. Once I have thoroughly rinsed out the soap, I dilute about a capful (1 Tbsp.) of Organic Hair Rinse in a reusable cup with about 12 oz. of water and pour it over my head and work it through my hair, then rinse thoroughly.
When my Organic Hair Rinse has run out, or on mornings when it's mysteriously walked away, I instead use a rinse of either apple cider vinegar (ACV) or filtered fresh lemon juice diluted with water. Both are acidic, making them excellent alternatives to the Organic Hair Rinse when it comes to balancing the alkalinity of the soap.
When using ACV, I dilute it by half with water. For my long, thicker hair, I use about 1/2 cup ACV diluted with another 1/2 cup of water. A third good option is lemon juice, if lemons are handy. Where I live in Southern California, there are so many lemons on the trees and rolling down the streets that they're almost a nuisance. Because lemon juice is slightly more acidic than ACV, I usually dilute it a little more, at about 1:2 ratio instead of 1:1. And I learned the hard way, after a day of having my husband repeatedly mentioning I had pulp in my hair, that it is very important to filter the lemon juice through a fine sieve first! Keep in mind, too, that lemon juice is not shelf stable – or shall I say shower stable? It will ferment, so keep it in the fridge. (I know that's a little weird, but if the lemons are free/cheap, it works.)
How much rinse you'll need will depend on the thickness and length of your hair, but a good starting place is about half the amounts I use above, and adjust from there.
What happened next
So, instant conversion? Nope. Here's what happened. (This is based on my observations and deductions – not scientific research.) When I washed and conditioned my hair conventionally, my hair felt slippery even after it was rinsed. I thought this texture was good and meant my hair was strong and smooth. In retrospect, this slipperiness was a coating to conceal damage.
The first time I washed my hair with soap, that coating was quickly and completely stripped away, exposing my hair for the overworked, tired mess that it was. I applied the rinse, diluting it and doing the double dose that the instructions recommend. It helped detangle my hair, but my hair had no natural moisture and the strands were clearly damaged. By the end of the day, my hair was completely flat. It seemed full of static, and just didn't feel clean. This just wasn't going to work. I gave up.
It was several months later that I resolved to try again, this time giving the soap/rinse more of a chance. I washed my hair every two days, just as I always have. I rinsed with the Organic Hair Rinse. I let the hair rinse sit on my hair for most of my shower, rinsing it off at the end. Once a week, I used a more conventional shampoo and conditioner, to help ease the transition. Over a period of two weeks, my hair got stronger and stronger. It became soft and silky – all on its own. I think my scalp realized it needed to wake up and do the job it was meant to do.
I also discovered that my hair is much wavier than I knew, now that it's not weighed down by all the residue. That's been kind of fun. My hair does better when I blow my hair dry, but that was true before I made the switch. Now that I've been using the soap for over a year, I only need one dose of the rinse. I no longer use any other products on my hair. It looks worse when I do.
I'm really pleased with my hair now. I got used to this different system. I keep a plastic cup in the shower for diluting the Organic Hair Rinse (although I've poured a cupful straight on my hair when my cup has walked away – works OK). My hair does not feel slippery when I'm done, but it is tangle-free, and when it dries, it is smooth and soft. It is a big time and money saver to be able to wash myself from head to toe with one product. It's a lot less complicated, too – a lot less to think about, especially in my pre-coffee morning fog.
Regarding the Organic Hair Crème, I had to do a little more trial and error with this. I found that for me it works best after my hair is dry. I use a pea sized amount to smooth any frizzies and keep things a little more in place.
Everyone's hair has its own personality and there will need to be some trial and error in switching to Dr. Bronner's soap and the Organic Hair Rinse. Whether to use the pure Castile Soap or the Organic Sugar Soaps. (I prefer the Castile because I like the almond, but texture-wise, they both work great.) How many rinses to do. How long to let the rinse sit on the hair. Whether to dry with a blow dryer or let it air dry. Whether to use the Organic Hair Crème on wet hair or dry hair. How many days you'll need to wait for damaged hair to repair. You see what worked for me. That should get you started.
One disclaimer – don't do this on colored hair. The alkalinity of the soap opens up the hair follicles, where the color resides. The color will drain out and fade quickly. Colored hair needs acidic products only. (Soap, by nature, cannot be acidic. Only detergents (shampoo) can be.)
Because there are many variances in our hair types and preferences, you may have to tinker a bit to figure out what works best for you. For more ideas, I highly recommend this Definitive Hair Washing Guide written by Dr. Bronner's Content Editor, Rafi Loiederman.