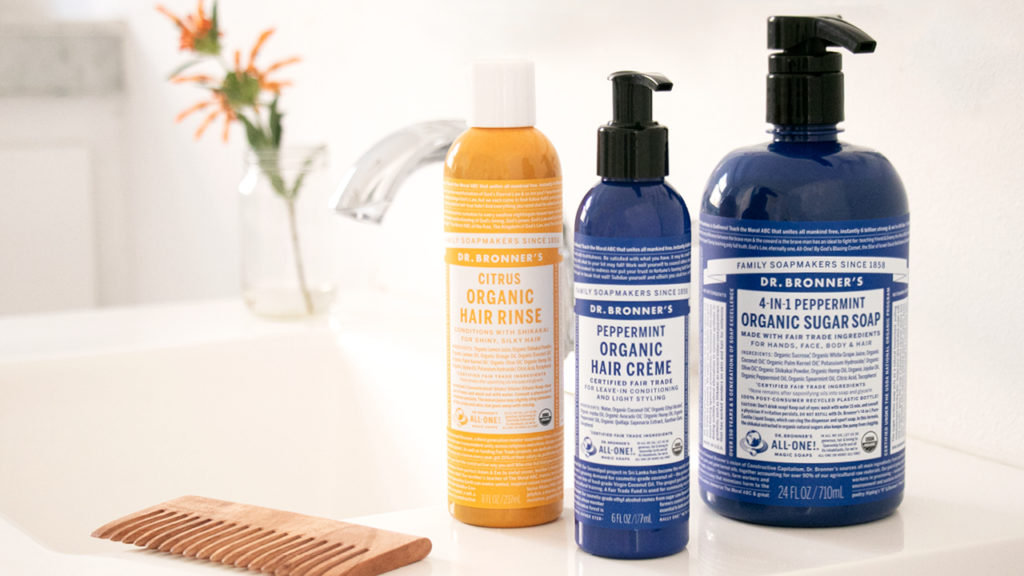 It's been 12 years since I originally wrote about washing my hair with Dr. Bronner's soap, so I thought it was time to update this post and let you know how it's going. I've washed my hair quite a lot since then.
I still wash my hair with soap, and I love it even more now than I did then.
I love that I can wash myself with one product from head to toe. In my early morning pre-tea fog, I appreciate this so much. Most of the time I use the Castile Liquid Soap—usually Almond, sometimes Citrus. If my hair is feeling extra dry, I go up to the Organic Sugar Soap—Lemongrass Lime—with its sugar and Shikakai powder to give extra nourishment. (Sugar is a humectant which draws moisture into skin and hair. Shikakai softens skin and hair.)
And when it's really dry here in Southern California, like when the Santa Ana winds roar out of the desert, sucking every last drop of moisture from all forms of life, I use the Organic Shaving Soap. That's the most moisturizing of the Dr. Bronner's soap line, and great for more than just shaving.
So let me take you back to the beginning. To why I started washing my hair with soap instead of shampoo and how I survived the transition.
My motivation
When I started learning about problematic ingredients in personal care products, I noticed a disturbing trend. All the ingredients that populated the "12 Worst" and "Avoid These" lists were common in shampoos. Ethoxylated compounds like Sodium Laureth Sulfate (not to be confused with its cousin Sodium Lauryl Sulfate, aka SLS), Polyethylene Glycol, and other -eths with the carcinogenic stowaway 1,4-Dioxane. Quaternium compounds and Ureas which are common allergens and formaldehyde-releasers, another known carcinogen. Ethanolamines, aka DEA, MEA, TEA, which readily react with nitrogen compounds in the air or in other ingredients to form skin-penetrating carcinogenic nitrosamines.
It was time to find another way to wash my hair. But I still wanted my hair to look good. Who doesn't?
Choosing an acidic rinse
I knew that one key to success was going to be an acidic rinse. A trait that differentiates soap from shampoo is its pH, which is whether something is acidic or alkaline. Soap is always alkaline. Shampoo is acidic. The keratin scales of hair strands raise up in the presence of an alkaline (soap). I've heard people describe their hair feeling sticky or tacky after washing with soap, or it's dull or easily tangles or it feels like Velcro. All of this is because of the raised keratin scales. The scales must be smoothed back down with a balancing acidic rinse.
Here are three great options, and my dilutions. Bear in mind that I have fairly long hair. Shorter hair may need less or even none, as I'll discuss with my husband and son:
Dr. Bronner's Citrus Hair Rinse: 1 or 2 capfuls diluted in 1 cup of water
Apple cider vinegar (ACV): ½ cup in ½ cup water
Lemon Juice (filtered to remove all pulp): 1/3 cup in 2/3 cup water

(Take note that lemon juice is not shelf stable and needs to be kept in the fridge.)
Basic method
Wash hair with soap of your choice. Rinse out.
Apply rinse of your choice, finger combing through the hair. Let it sit for 1-3 minutes. Rinse out.
My first hair wash with soap (anticlimax)
The first time I washed my hair with soap I was frankly horrified. What I realized is that conventional conditioners had been coating my hair with silicones, usually dimethicone, which accounted for that slippery post-shower feel. However, not only did those weigh down my hair, but also they concealed its neglected malnourished state. So the first time I washed my hair with soap which removed this coating, my hair looked awful. By the end of that day, it was completely limp and lifeless. It was full of static and didn't even feel clean. I was so discouraged that I gave up the attempt.
My second hair wash with soap (months later)
It was several months later that I decided to try again. I washed my hair with soap, again found my hair to be the same tired overworked mess, but I had a different resolve.
I knew my hair needed to heal.
Tactics I used to ease the transition
Once a week I did deep conditioning treatments, where I left a masque on my hair for about 10 minutes. Hair strands are comprised of two or three layers. Fine hair has only two layers. The outermost layer, or cuticle, is made of keratin in an arrangement of overlapping-scales. This covers the inner cortex, which is solid keratin. Thicker hair has a central shaft called the medulla. I needed a deep conditioning treatment that would penetrate into these layers. At the time I used a brand of conditioning masque that isn't now available, but now I use coconut oil (a pea-sized amount on my long, thick hair) or the Dr. Bronner's Hair Crème.
I doubled down on the five lifestyle habits that most impact hair (and skin!): good nutrition, plenty of water, plenty of sleep, exercise, and laughter. When these are not in place, the hair is sure to show it.
Once a week I used my previous shampoo and conditioner. This might have been more of a psychological help than a restorative one to my hair. But using the old comfortable stuff once a week made me feel better about the whole thing and got me through, so that's worth something.
I let the acidic rinse sit on my hair for most of my shower to give my hair lots of time to smooth.
I used 1-2 pumps of Dr. Bronner's Organic Hair Crème after each hair washing, which is a leave-in conditioner that is like lotion for hair. I would apply it while my hair was still damp after I had brushed it out, concentrating on the lower half of my hair which tends to be dryer since it is further from the sebum-producing scalp.
Over a period of two weeks, my hair got stronger and stronger. It became soft and silky. I think my scalp realized it needed to wake up and supply some necessary oils, too. Without those silicone residues, my hair does not feel slippery when I'm done, but it is tangle-free, and when it dries, it is smooth and soft.
I also discovered that my hair is much wavier than I knew, now that it's not weighed down by all the conditioner residues. That's been kind of fun. I have discovered that if I gently scrunch the Hair Crème into my hair and let it air dry, the waves are more pronounced.
My other takeaways
I use a dab of the Hair Crème to smooth flyaways on dry hair, especially if I am going for more of a structured style like a braid or twist.
I also have found that I don't need to wash my hair very often. The most I'll wash it is every two days, but sometimes I go three or four with it still looking nice. I'm really pleased with my hair now that I've gotten used to this different system.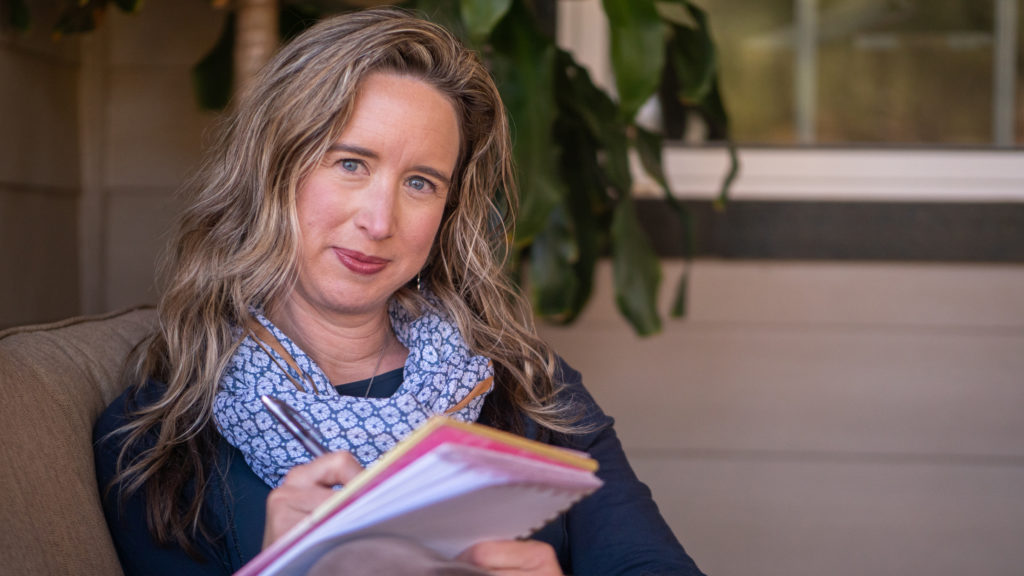 Remember that for me, it wasn't an instant switch. It took some time for my hair to adjust, for my scalp to adjust, and even for my own norms to adjust. But it has so been worth it. My hair is healthier, stronger, and most importantly, I like how it looks.
Hair washing with Bar Soap
The Castile Bar Soap also works excellently for washing hair. Two members of my household use it regularly: my husband and my son. The only reason I do not is that it takes a while to work it all the way through my long hair. However, when traveling and I haven't wanted to bring the liquid for risk of spilling, or when for some reason I don't have the liquid on hand, the bar soap has been a great substitute.
Another great way to use the bar soap on hair is to make up a batch of Soap Cream, which is a semi-liquified bar soap. This would work through the hair more quickly.
Washing traditionally colored hair
If you've been on board with this whole discussion of soap for hairwashing, I may derail you: it is not recommended to wash traditionally colored hair with an alkaline cleanser. Soap is always alkaline. The reason goes back to the fact that the alkalinity of soap opens up the hair follicles. This is precisely where traditional hair dye is stored. The color will drain out and fade quickly. Colored hair needs acidic products only. Check the Environmental Working Group's Skin Deep Database for healthy color-safe hair care options.
Washing Henna-dyed hair
Henna-dyed hair does not have this same caution and can be washed with soap. Henna works by staining the outer keratin of the cuticle, rather than storing the dye inside the cortex. Soap will not affect this stain.
Washing highlighted hair
Highlighted hair also is safe with soap. Highlights work by removing some of the color of hair, not by adding color in. Unless you have also added lowlights back into the hair, you can wash highlighted hair with soap. I have highlighted hair myself and cover this topic in greater detail in another article.
Finding what works best for you
It takes some time and tinkering to land on a routine that works best. Our hair is all so very different from one another. And what we want from our hair is different. What one person calls sleek, another calls flat. What one person calls full of body, another calls wild and out of control.
You will need to decide whether to use the Castile Soap or the Organic Sugar Soaps or the Shaving Soap. Which rinse works best and how long to let the rinse sit on the hair. Whether to dry with a blow dryer or let it air dry. Whether to use the Organic Hair Crème on wet hair or dry hair. How many days you'll need to wait for damaged hair to repair. I hope that seeing what worked for me will get you started.
For more tips and tricks on hair washing with soap and to find your perfect method, check out my colleague Rafi Loiederman's excellent overview, The Definitive Guide to Washing your Hair with Dr. Bronner's.
Further reading
Benefits of Shikakai for Hair and Body
Styling Long Hair with Dr. Bronner's Hair Creme