I was 19 when my grandfather Dr. Emanuel Bronner died from Parkinson's Disease. I had spent his last two summers interning in the Dr. Bronner's office, which was in his house. I was perhaps on the cusp of beginning to understand him when his ability to interact with me faded. I have learned much more about him in the years since then from the legacy he left in his writings.
The label on the quart size of the Lavender Pure-Castile Liquid Soap holds the greatest insight for me into his motivations and goals. The Peppermint label records the tenets of his Moral ABC, his guidelines for humanity to find unity and a path forward. But it is the Lavender quart that hosts his poetry, and in that I see his heart.
It's a lesser known fact that the labels for the various U.S.* Castile quart scents record different sections of my grandfather's writings in the tiny white script. There's some overlap among them, but if you take a closer look (a magnifying glass might help), you'll see different passages. Legend goes that when my grandfather ran out of space on his label he came up with a new scent so he'd have more label space to write. Of the five liquid scents that my grandfather developed, the first was the Peppermint in 1948, then over the decades came Almond, Eucalyptus, Lavender, and Unscented. (Tea Tree, Rose, and Citrus all came under later generations.)
Why on a soap label?
When my grandfather finally found himself in Los Angeles in the late 1940s, he had developed his Moral ABC into a full-fledged, ready to share philosophy. And share it he did. He would speak wherever he was given a platform, whether it was in lecture halls, homes, or most commonly standing in L.A.'s Pershing Square. He was grateful to anyone who would come to hear him speak, and in gratitude, he would give attendees a bottle of his Peppermint liquid castile soap, made per his family's formula. Soon he noticed that people would come for the soap and not stay to hear him speak. His response was to put his philosophy on the label so that when folks took the soap home, they took the philosophy home with them. Rather brilliant, wasn't it? Thus, the label was born.
---
In my grandfather's eyes, you're buying the label; the soap comes free.
---
Through the years, my grandfather never waivered from his prioritization of the label. If you didn't want the label, he didn't want to sell you the soap.
In other words, the soap was made to sell the label. Never mind that most labels are designed to sell the product. In my grandfather's eyes, you're buying the label; the soap comes free.
I'd like to take you on a tour of the Lavender label. If you don't have a U.S. quart handy, use the PDF below to follow along.
---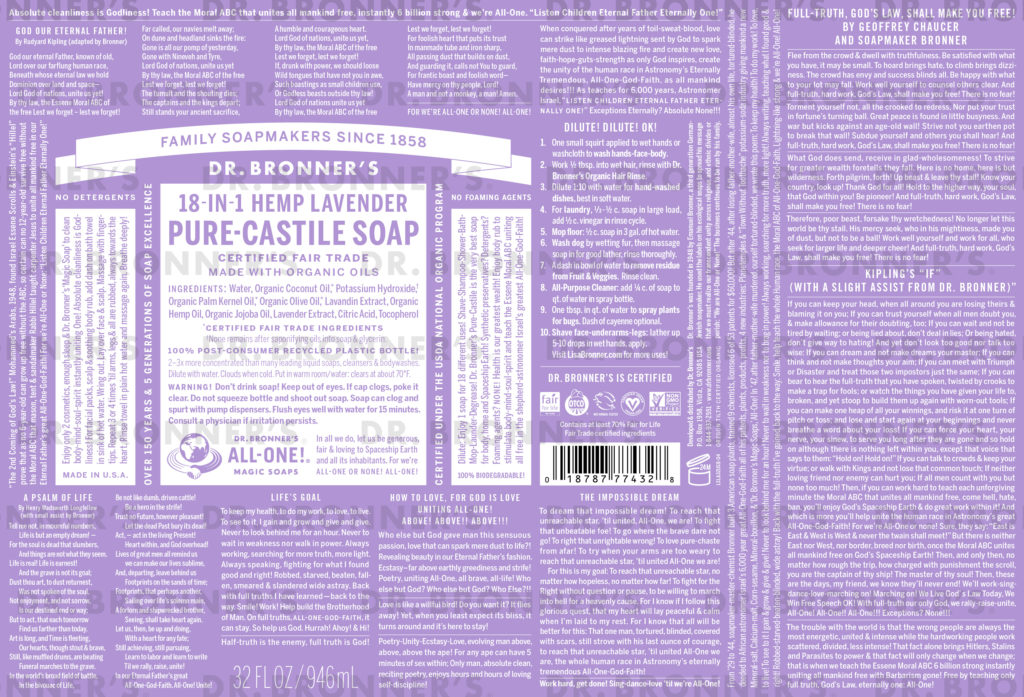 Starting Point: Turn the Bottle sideways
The best place to start reading this label is running sideways up the right side of the front-facing quart. There's a 5-line block of text that runs from the bottom of the label to the top. It is a remarkably succinct autobiography that gives the best foundation for understanding the life he chose to live. This paragraph appears on every one of his labels. It gives some context to understand the rest of his writings.
In these five lines, he twice cites the deaths of his father & mother (both in Hitler's concentration camps), and wife (in an Illinois mental institution) and his own pain and torture undergoing mental health treatments in the 1940s. (I know that leaves a lot of stories untold here, but that would take a book to write.) He also tells of his accomplishments – establishing himself professionally in a new country, his patents, his creation of soaps and health foods. From these depths and heights he pulled together a philosophy of personal strengthening and a passion to help others. This is the source for what he did after.
"To keep my health! To do my work! To love, to live! To see to it I gain & grow & give & give. Never to look behind me for an hour."
Nor did he. He was an incredibly forward-thinking person. He did not seek revenge or restitution. He did not dwell in self-pity or bitterness. He took his own action as he was able, ardently teaching and writing and appealing to others to live the better life.
"Full Truth, God's Law, Shall Make You Free!" by Geoffrey Chaucer and Soapmaker Bronner
Turning right from this autobiographical section, you come to the most rewritten poem on this label. Various poems are bylined "with slight assist" or "adapted by" Bronner. This section is about half and half. Except for the title, which is entirely Dr. Bronner's. Geoffrey Chaucer called it, "Truth: A Ballad of Good Counsel." I know poetic purists may quiver at his audacity, but these edited versions do leave us with a great record of his inspirations. Had these poets been alive, I have no doubt my grandfather would have written directly to them with his suggestions, but as they weren't, he sufficed by indicating where he had contributed.
It is difficult to discern who wrote which passages in the Full Truth/Ballad because in some sense, neither Chaucer nor my grandfather wrote any of it. Chaucer wrote in the language of Middle English, 75% of which looks like English and the rest like someone had their fingers on the wrong keys as they typed. Most of us require a translator to read it.
For my grandfather's part, by the time the Lavender soap and its label came out in 1978, he was completely blind, likely caused by the electroshock therapy he underwent in the mental institution. He understandably never trusted doctors much after that, and so we never learned exactly what caused his blindness. His additions and alterations to Chaucer's original would have been dictated to an assistant. Often that assistant was my uncle Ralph Bronner, but Dr. Bronner used whoever was nearby. He reviewed these writings ceaselessly, regularly declaring them "almost finished!" Until the next day when he had more edits.
"Flee from the crowd … Be satisfied with what you have."
In general, this passage, both in Chaucer's words and in my grandfather's, focuses on the simple life, away from the strictures and expectations of society. Away from the madding crowd.
My grandfather lived this life daily. He bought a modest house in the midst of an avocado grove, which he considered nature's most perfect food. (I have to agree.) I find the exhortation always true, but particularly relevant to my current situation. I write this analysis during "stay at home" orders in the Spring of 2020. I have no choice but to flee from the crowd. To find contentment right now, I must be satisfied with what I have. The alternative is to frustrate myself by focusing on what I don't have or what I can't do. The challenge is to find the joy in making do. Working with what I have on hand, be it food, entertainment, or relationships.
"Great peace is found in little busyness."
There's a story my Uncle Ralph tells of my grandfather. It's shocking in part, but also indicates that my grandfather lived this truth. According to Uncle Ralph, a woman once called my grandfather and said she had gone into the bathroom to take her life, but her eyes fell on the label of his peppermint quart, so she called the phone number on it. My grandfather told her, "Clean your house and call me back!" Then he hung up on her. She did both, and they talked for hours. She said her life was transformed. While I do not in the slightest want to make light of such desperation nor give this as the only intervention, I agree that there is something deeply therapeutic about a little busyness. Whenever I am anxious or upset, one of my best strategies is to do a little busy something: tidy, cook, crochet, garden, laundry. A little physical task that gives my mind and heart time to settle. Also, productivity creates momentum. This is why I make my bed every morning. A little busyness jump starts greater productivity.
"Work well yourself and work for all."
Here is the theme, which we saw in that first revealing paragraph and which recurs in nearly every passage: Do well so you can do good.** Personal betterment and community betterment – inextricably intertwined.
Kipling's "If" (with a slight Assist from Dr. Bronner)
Follow the column of text down the bottle to Kipling's "If." This poem is nearly intact from Kipling's original, though with some extras added at the end. My grandfather could recite it from memory, and he expected us to, also. (That was true for all of the label. There was always a scramble for the nearest bottle when we'd hear him command, "Mike! Recite to me number 13!") I imagine he felt this poem captured his personal history, though he rarely spoke in detail of his experiences. Of the poetry he cites, this one is my favorite, too.
"If you can bear to hear the full-truth that you have spoken, twisted by crooks to make a trap for fools; or watch the things you have given your life to, broken, and yet stoop to build them up again with worn-out tools… If you can force your heart, your nerve, your sinew, to serve you long after they are gone and so hold on although there is nothing left within you, except that voice that says to them: "Hold on! Hold on!""
Endurance and perseverance. I sense his resonance with these lines. For one, he added an extra "Hold on!" to Kipling's original. So many times in his life he had to start over. First when he came to America in 1929, establishing himself as a chemist, then losing on every front over the next two decades: his adopted country at war with his homeland; his mother, father, aunt and others perishing in concentration camps; the death of his wife; his own incarceration in a mental asylum; hitchhiking to California; and starting over again. While I don't agree with all of the decisions he made along the way, I admire tremendously that he did not give up. He held on.
"East is East & West is West & never the twain shall meet!"
This shows my grandfather's familiarity with more of Kipling's work, and where he disagreed with the poet. This line originates from "The Ballad of East and West," in which Kipling refers to the differences between Britain and subcontinental India in the 1800's. However, my grandfather takes issue with Kipling's declaration that the divide between East and West was insurmountable, and goes on to say that if all people would learn to see their commonalities, as outlined in his Moral ABC, they would overcome their boundaries and unite "all mankind free."
"How to Love, for God is Love"
Moving left, you'll find, so far as my research can tell, an original poem by my grandfather, as is "Life's Goal" beside it. The repetition of, "Who else but God?" shows his marvel over the miraculous. My mind is not fully wrapped around the idea of "Poetry-Unity-Ecstasy-Love." I think he meant a soul-swelling sense of well-being, harmony and one-ness with the world around him, expressed in the most concentrated form of verbal expression. I have wondered if his German roots may explain his frequent usage of multi-hyphenated words. (The irony of my own use of hyphens is not lost on me.) Afterall, German words commonly build idea upon idea to pinpoint an exact meaning, from the practical Armbanduhr (arm+band+hour=watch) to the poignant Schadenfreude (pain+joy=joy at another's pain; think reality TV) or Frühjahrsmüdigkeit (Spring+year+tired+manner=lethargy that comes at Spring time; a version of Spring Fever).
"A Psalm of Life" by Henry Wadsworth Longfellow (with small assist by Bronner)
This poem contains the word "bivouac." Be still my Scrabble-beating heart.
My grandfather made very few alterations to this poem, which indicates how much it resonated with him in its original form. It didn't need much assistance, even down to the plentiful exclamation points: "Be a hero!" "Let the dead Past bury its dead!" "Act in the living Present!" His three changes: adding the letter "v" where Longfellow had elided it, as in "howe'er;" changing the last word of the poem from "wait" to "write" ("Learn to labor and learn to write."); adding three clearly Bronner lines on to the end:
Til we rally, raise, unite!
In our Eternal Father's great
All-One-God-Faith, All-One! Unite!
Overall, this poem is about living a full life. Though our bodies are on "funeral marches to the grave," we have opportunities to do great things.
"Lives of great men all remind us we can make our lives sublime."
My grandfather was hugely impressed with individuals who pursued excellence tirelessly, in whatever realm they found themselves. Thus, you have lists (on the Peppermint quart) of those he most admired – not necessarily because of their specific accomplishments, but because they pursued excellence wherever they were: athletes, scientists, philosophers, politicians, musicians, social advocates.
"Life is real! Life is earnest! And the grave is not its goal."
While the grave is unavoidable, merely surviving until then is not the goal of life. Nor is sorrow or enjoyment. The goal is to act so "that each tomorrow find us farther than today." Put another way, start where you are with what you have. Take the next step, whatever that may be.
"Let us then be up and doing … still achieving, still pursuing, learn to labor, learn to write."
This emphasis is on action. Do something. Now. My grandfather did not have patience for the inert dreamer, the action-less, those who talked but did not act. There were many times in his life that my grandfather was at zero. Physically, emotionally, financially. No evident opportunity. Every reason to sit still and sigh. While he regularly spoke of his "tortured-blinded" self, he did not do so with an air of self-pity, but rather to say, if this is what I can do despite what I've been through, how about you?
My grandfather regularly would call me with an exhortation to action: "Lisa! You must learn to type!" "Lisa! You must learn to use a computer! It is the way of the future!" "Lisa! You must spend some time working with your hands! It will give you a connection to the common man!" And he was right.
"God Our Eternal Father!" by Rudyard Kipling (adapted by Bronner)
We'll end our tour with a second poem by Kipling. This one is very interesting. Although my grandfather left it structurally intact, a close analysis uncovers frequent word alterations that profoundly change the tenor and meaning of the poem. Kipling's original was written in the height of British imperialism and contains a warning for people not to trust in the country's might but to rely on God, and also to use power responsibly. My grandfather changed the poem from a plea to a nation to a plea to all of humanity. This is a plea to transcend national and ethnic boundaries and instead to unify under our common humanity.
"Lest we forget-lest we forget"
This line that jumps out at me because I heard my grandfather say it so many times. He well knew the tragic flaw of humanity: that it is prone to forget the past, to forget the atrocities of which it is capable, to adopt the arrogance of modernity to believe that the human flaws of the past no longer lurk. What specifically did my grandfather not want us to forget? All the national and personal tragedies of WWII, from the Holocaust to the dropping of the atomic bombs, and all the times that people have risen up against each other. Further, he didn't want to us to forget the atrocities both he and my grandmother underwent.
In Conclusion
If there's one word that stands out on this label, recurring in every poem, it is the word "unity." Realize our unity. See our similarities instead of our differences. This was what he repeats in all his writings.
I was taken with the consistency I found from poem to poem, the recurrent themes of taking action, moving forward, caring for self, caring for others, and embracing our similarities instead of focusing on our differences. My grandfather was adamant about these ideas in his life and in his writings. I admire his willingness to face great odds, his willingness to stand alone, his focus, and his passion. He lived the life he said he would live.
---
*Many of the international labels don't have the variations because of longer required wording in the white boxes and other labeling requirements.
**Also, the first of Dr. Bronner's (the company) six Cosmic Principles: Work Hard! Grow!