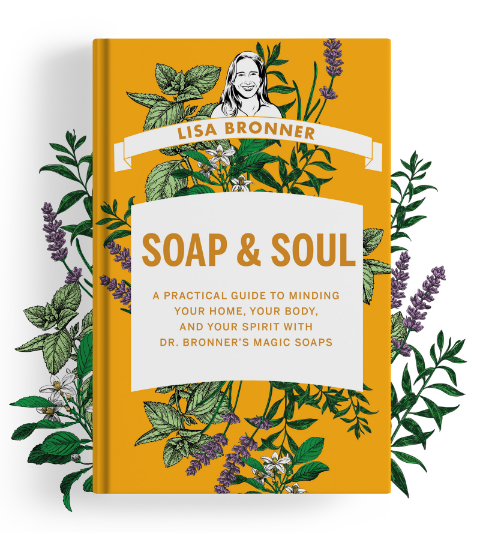 Soap & Soul
Your new guide for simple, green living!
Available now in hardback, ebook & audiobook.
Purchase Your Copy!
A Practical Guide to Minding Your Body, Your Home, and Your Spirit
with Dr. Bronner's Magic Soaps
The soap with 18 uses? That's just for starters! Lisa Bronner presents Soap & Soul, a practical guide to green living. Drawing from years of customer engagement on her Going Green with Lisa Bronner blog, social media channels, and scores of customer emails, Lisa shares what customers most want to know: how to use Dr. Bronner's versatile products and how to live a simple, practical low-tox life. Lisa undergirds all her tips with substantial research so that readers can know the "why" behind the "what."
Not only is this book a Dr. Bronner's companion guide and green living how-to, but also Lisa shares stories of the ups and downs of her own green journey and memories from the Bronner family that has been at the forefront of the natural marketplace for 75 years.
In addition to Lisa's oft-cited usages and dilutions for Dr. Bronner's products, the book will dive into popular reader topics such as hair washing, skin health, dog washing, laundry, carpet care, and conventional product replacement.
In Soap & Soul, Lisa will explore:
How to use simple ingredients for personal and home care.
The chemistry of cleaning—how soap works and why you can't mix cleaners.
How to read ingredients and interpret product packaging, certifications, and claims.
Why caring for our physical space and bodies benefits our mental and emotional well-being.
Reviews from Fans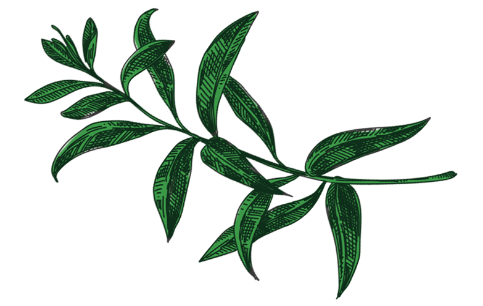 At once philosophical, practical and autobiographical, SOAP & SOUL is a beautiful melting pot – a road map for a closer-to-nature home, an encouraging blueprint to make that a reality, and a story of a family leading the way, in their own ways and together. Lisa, my friend across the water – it's a triumph and will inspire many, I've no doubt!
– Alexx Stuart
Author of Low Tox Life & Low Tox Life Food
Holy moly Lisa. This is amazing… I teared up reading this, and generally want to say your writing is so good, your sense of humor so fun and funny, and your insights so deep and profound. This is as much a mystical text for leading a good spiritual life as it is about cleaning… Deep bows of respect and gratitude.
– David Bronner
Dr. Bronner's CEO (and Lisa's brother!)
SOAP & SOUL is an indispensable guide to embracing a green and low-tox lifestyle. Lisa Bronner's passion, expertise, and dedication shine through on every page, making this book a valuable addition to your library. With substantial research underpinning her advice, the book gives readers a deeper understanding of the products they're using and the positive impact they can have on their lives and the environment. Whether you're a long-time fan of Dr. Bronner's products or a newcomer to the world of green living, SOAP & SOUL offers an all-encompassing road map to a more conscious, fulfilling, and sustainable way of life.
– Ken Cook
President & Co-founder of Environmental Working group (EWG)
The inside story of how soap changed American culture forever. Anyone mesmerized by the Dr. Bronner All-One label, will love reading Lisa Bronner's green guide for modern living. Equal parts philosophy memoir and practical advice, this belongs on your bookshelf as an American classic.
– Mary Bemis
Green beauty expert & editorial director, Insider's Guide to Spas
SOAP & SOUL is about as perfect of a book for this iconic brand that I can imagine, primarily because it is a meditation on both soap and life, and the biggest compliment that I can give SOAP & SOUL is that I still think about it often, even though I read it weeks ago.
– Max Goldberg
Founder of Organic Insider
About Lisa Bronner
Lisa Bronner is the granddaughter of Dr. Emanuel Bronner, founder of Dr. Bronner's Magic Soaps with its iconic Castile soap of many uses. A teacher at heart, she is Dr. Bronner's consumer educator, advocate, and company spokesperson as well as founder and editor-in-chief of the Going Green with Lisa Bronner website, which guides customers on the extensive versatility of Dr. Bronner's products, provides many household chemistry lessons, hosts lively forums for green living help, and encourages people towards a simpler and more life-filled life.
Q&A with Lisa Bronner
Are you related to Dr. Bronner of Dr. Bronner's Magic Soaps?

Yes! Dr. Emanuel Bronner, who founded Dr. Bronner's Magic Soaps was my grandfather. When he passed away in 1997 at age 89 of advanced Parkinson's, the company was run by his two sons—my dad, Jim and my Uncle Ralph, assisted by my mom Trudy. When my dad passed away the following year, my oldest brother David took the helm, joined soon after by my other brother Mike. David still serves as Cosmic Engagement Officer (CEO), Mike as President, and our Mom as CFO.

What is your favorite Dr. Bronner's Pure-Castile Soap scent?

I can't pick just one so I have two favorites—Almond because it's cozy and comforting and Citrus because it's bright and lively. It depends on my mood or the day!

When and why did you start Going Green with Lisa Bronner?

The initial purpose of writing the blog was to save time. I had three young kids then, which meant, I had tiny time windows in which to work before the kids unleashed chaos. Previously, I had been the one to answer the abundance of Dr. Bronner's customer emails. There was a lot of repetition:

Can I wash my hair/face/baby/dog/laundry/diapers/boyfriend's grungy wool hiking socks with the soap?
Can I mix the soap with vinegar/bleach/baking soda/vodka/borax/essential oils?
Will this recipe I found online/at my chiropractor's/on Oprah/from my grandmother work?
And what's with that label? (That answer is explained here!)

So I started the blog to answer all these en masse. But the blog wasn't my idea. My brother Mike and I were chatting one day:

Mike: Because we get a lot of the same questions, can you write a blog to answer them all at once?

Me: What's a blog?

I soon learned that a "blog" is a portmanteau of "web log" where people write short, casual entries. How about that. I never entirely got the hang of "short" and sometimes I dive a little deeper than "casual." I still have much to learn.

Since launching the website back in March of 2010, I've expanded to Facebook, YouTube, and a monthly newsletter, which you can subscribe to here.

What inspires you to do the work you do?

If there is anything I can do to help someone, to ease their way and make their day a little brighter, that's what I want to do. What I do with all the Going Green channels and with this book, it's all part of that. I certainly did not have a vision for this 20 years back, but I kept helping where I could with what I knew how to do, and this is where we all are today. One foot in front of the other.

Why did you write Soap & Soul?

The first suggestion that I write a book came back in 2010, shortly after I started the blog, when a very kind colleague insisted that I needed to write a book. I laughed, but I appreciated the vote of confidence. 12+ years later, comments came in more frequently that readers would prefer a book that compiled everything in one spot. But I can't write just a recipe book. There's no fun in that. I wanted to give the recipes context and tell stories and show that it's not just about mixing up a batch of foaming hand soap, but about a journey. I thought sharing my own journey might be an encouragement. Thus, Soap & Soul was born.

How long did it take you to write Soap & Soul and what was your writing process like?

The one question that held me back for a bit from tackling a book writing project is exactly this: when did I possibly have time to write a book?! It wasn't as though I had these chunks of time just waiting for a project. My husband and I talked a good bit about what I would have to give up, and I had to say no to a lot of activities.

Once I buckled down to writing the thing, it took me about nine months. Even then, if you're picturing a cozy little writing nook where I clickety clacked away on my computer with a cup of tea by my side, that wasn't quite how it worked. It was more like Green Eggs & Ham: I wrote it here, I wrote it there, I wrote it everywhere. Sitting outside my son's trombone lesson, up on the boardwalk at the beach, on airplanes traveling to see my son in college. Life did not stop because I had a book to write.

I found my house to be incredibly distracting, so I rented a space in the storeroom of a local deli. It was exactly what I needed. No pets, no clutter, no "it'll only take a sec to start a load of laundry." Plus, I had a steady supply of the deli's delicious house made hummus and warm pita whenever I needed it!

What kind of a reader and writer were you as a child?

I was one of those kids who hid under the covers with a book. I knew the sound of my mom's footsteps in order to hide my book and feign sleep. I don't know if she was fooled. My whole family were readers. We didn't have a TV, and so trips to the bookstore were favorite outings. We'd each have our stash and sprawl around the house. There would be some books that we all wanted to read and had to take turns. My mom got first dibs on the latest Garfield book.

But I did not write as a child or teen. At least not beyond school requirements. I devoured fiction, but had no desire to write it, and I thought non-fiction was boring. Ironic, isn't it? Now I see writing as an important tool. My primary desire is to encourage and educate. Writing is one way I do that. I'm still daunted by a blank page every time I sit down to write. I have to take a deep breath and command my hands to start moving, and then the words begin to flow and I find it's not that scary.

Is there an ebook or audiobook of Soap & Soul?

Yes, Soap & Soul are available in both ebook and audiobook (read by me!).

Where can I buy the Dr. Bronner's products mentioned in the book?

Dr. Bronner's products are available in retailers nationwide, from independent stores to large chains. Most of the Dr. Bronner's line is body care products which are often in the natural personal care section of the store. Sal Suds is in the green cleaning aisle, and the Virgin Coconut Oil and Magic All-One Chocolates are with food. They are also widely available at online retailers, including the company's webstore at DrBronner.com.

Can I interview Lisa for my podcast/radio show/magazine/etc.? Who do I contact?

For media and interview inquiries, please contact the Dr. Bronner's PR Manager, Lauren Stansbury at lauren@drbronner.com.
Meet Me & My Book, Soap & Soul!
Go Deeper with Soap & Soul Supplemental Content