One of the most basic uses of the Dr. Bronner's Sal Suds Biodegradable Cleaner is for handwashing dishes. However, the concentration of the soap is so strong that it is very easy to get more bubbles than I bargained for. If I am filling a sink, or a large pot for washing a number of dishes, a small squirt of the Suds works well. But I have found that for washing a single item – whether it's a plate, a pot, a cutting board or a high chair tray – even a drop of pure Sal Suds is more than I need.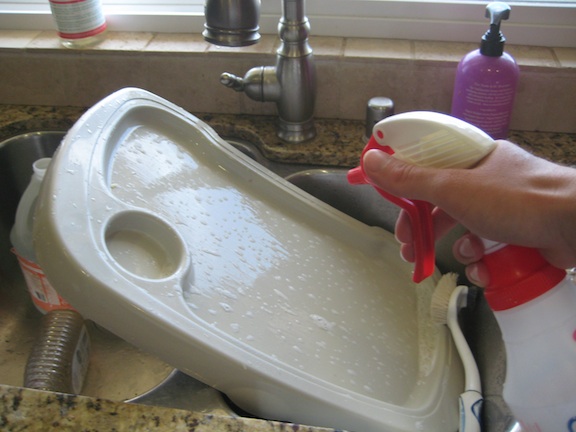 Instead, I have found that spraying the item with my bottle of Sal Suds All-Purpose Spray gets just the right amount. This way I'm not wasting Sal Suds nor time in cleaning up excess bubbles. Also, as a mom I tend to move really fast. There's always something else I need to do – right now. Even the bit of time it takes to wait for a single drop of Sal Suds to come out of the bottle gets me tapping my toe in impatience. The spray bottle is much faster, and I just like it better. So I keep the bottle right under the sink – handy for counters, floors, and dishes.
Further reading
Sal Suds or Castile Soap – Which to Use?
Handwashing Delicates with Dr. Bronner's
Sal Suds cleaner shows >60% biodegradation after 28 days per ISO 14593