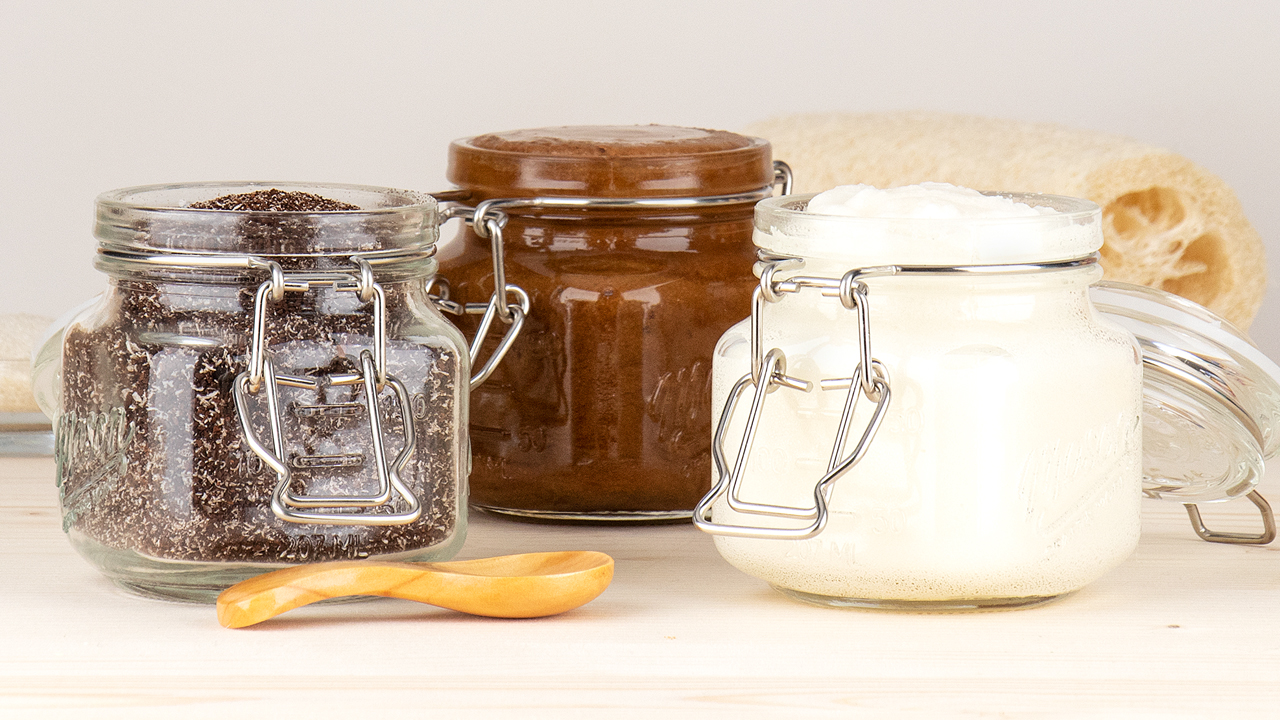 Whether as a gift to another or to yourself, these GIY (Green-It-Yourself) scrubs are so easy to make, with handy ingredients, and are so useful during the dryer months.
These scrubs surprised me. I didn't think I'd particularly like them or use them. I'm not one to have a bunch of different products in my bathroom. Probably no surprise considering my Bronner roots: one soap to rule them all! And I already have and like my Coconut Sugar Scrub.
But I discovered the soap-based scrubs have an advantage over oil-based. They rinse more thoroughly. Coconut oil is intensely therapeutic but leaves a film on your skin. This is desirable if you're going to bed where the oil has all night to soak in. However, not so great in the middle of the day when you're touching your phone, computer, kids, steering wheel.
These soap-based scrubs are now my morning scrubs.
The purpose of exfoliation is no secret: to get rid of excess dead skin. It might seem counterintuitive that you need to remove skin in order for your skin to be more intact. However, this is exactly what is needed. Dead skin does not stretch. And it holds on to the live skin beneath it, preventing it from stretching as you move. This causes the skin to rip or crack.
We need to remove the dead skin so the live skin can utilize its elasticity.
All three of these look fantastic in a glass jar with a bit of raffia or ribbon: an easy, consumable, and very useful gift for any occasion – or a gift for no occasion at all!
Simple Sugar Soap Scrubs
It doesn't get any easier than this one.
Ingredients:
Directions:
Place the soap in a bowl and then gradually add organic sugar, mixing with a fork to blend uniformly.
Store in an airtight container. Yup, that's it.
Jessica's Sugar Soap Scrubs
Jessica Harvey, our Marketing Project Manager, developed this fantastic scrub that's a step up from the Simple Sugar Scrub. You can substitute in coconut oil if it's handier, instead of the grapeseed or avocado, with the possible downside that it may solidify in cooler temps. Avocado oil is super healthy for the skin, but does give the scrub a slight greenish tinge. Grapeseed oil, while a little less common, is a nice lightweight liquid, colorless, scentless option.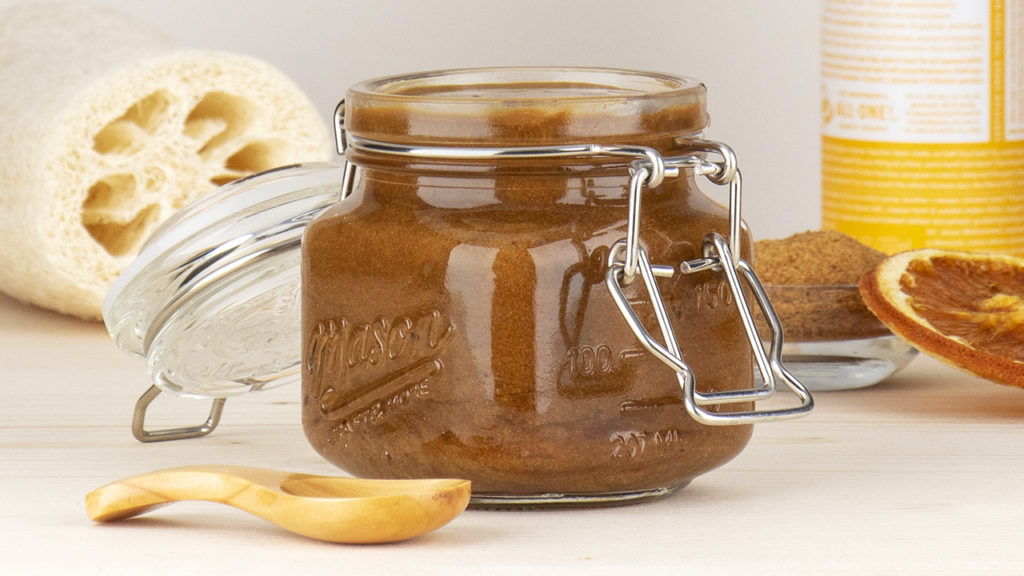 Ingredients:
1 cup organic coconut sugar (or exfoliant of your choice)**
¼ cup organic grapeseed or avocado oil
¼ tsp. organic vitamin E oil (optional as a preservative)
Directions:
1. Pour organic coconut sugar into glass or stainless steel bowl, breaking up any lumps with a whisk or fork.
3. Alternate adding the oil and the Liquid Soap gradually to the sugar, mixing well after each addition. Stop when you've reached your desired consistency. If you prefer a more liquid scrub, add more oil and soap, or if you prefer a dryer scrub, add less.
4. Add organic vitamin E oil, if desired, and mix well.
5. Store in a glass container.
Personalize it: Use any combination of Dr. Bronner's Pure-Castile Liquid soaps, so long as the volume adds up to 4 Tbsp. Or use the Unscented Pure-Castile and add 15-20 drops of your favorite essential oils to customize your scent.
Coffee & Bar Castile Soap Scrub
Making a scrub with bar soap has a few advantages: It's dry (doesn't spill in travel or transport), it's concentrated (bar soap is 95% soap vs. 67% soap of the liquid), and it uses no plastic packaging. The hardest part of this recipe is the prep of the ingredients. This recipe calls for used coffee grounds, but you can use fresh if you prefer.
Ingredients:
Directions:
Toss the two ingredients together and store in an airtight container.
* I used my box grater, but I think a rotary cheese grater would be much easier if you have one.
** Types of Exfoliant
The exfoliators in these recipes are interchangeable. You can swap out one exfoliant for another to make it gentler or more intense, or for the therapeutic benefits of a particular ingredient. Finer exfoliants are gentler on skin, best for the face or other sensitive skin. Coarser exfoliants are best for tough, built-up skin like heels and elbows.
If you use a finer exfoliant in one of the liquid scrubs, you'll need more of the liquid ingredients in ratio. If you use a coarser exfoliant, you'll need less of the liquid. Adjust to your preference.
Baking soda: Baking soda may reduce itchiness from a variety of conditions and soothe inflamed skin. It is a fine powder with very gentle abrasion.
Sugars: Sugar is a humectant which draws moisture into the skin. The range of sugars go from superfine to rock crystals. Fine sugar is less abrasive than fine salt. Here are sugars in order of increasing coarseness: caster or baker's sugar, granulated white sugar, brown sugar, coconut sugar, turbinado or raw sugar.
Salts: Salt may provide a deep clean for pores, detox skin, and reduce inflammation. Because there is such a range of salt crystal sizes, keep in mind that the larger the crystal, the more abrasive the salt.
For exfoliation, stick with the sodium chloride variety – which is common table salt and the basis of sea salts. There's still a big range within this from fine salts to super course rock salt. Start with finer salt and increase as needed. If you're mixing salt with liquid soap, make sure your salt does not contain anti-caking agents, which causes the soap to clump. If you're mixing it with the bar soap, the anticaking might be helpful.
Do not use Epsom salts for these soap scrubs. Epsom salts are an acidic salt, which means that when dissolved in water (which liquid soap contains), they form an acidic solution. Acids react with the alkaline soap and makes a gloppy mess. If you really want to make a scrub out of Epsom salts, make a coconut oil-based scrub.
Coffee: May have antioxidant and antiaging properties. Does not dissolve in water, so keeps exfoliating ability longer. And for the coffee lover, what better than coating the skin in the enchanting elixir?
The grind of coffee determines the degree of exfoliant, but even the finest espresso grind is still going to be a fairly intense exfoliation. Reserve coffee scrubs of heels and elbows that need the tough treatment. Even so, you can decide between a fine espresso grind or a coarse French Press grind.
Making these scrubs give you the satisfaction of homemade without a whole lot of fuss. I certainly won't tell your recipients how easy these are to make! That'll be our little secret!
Further reading
GIY All-Purpose Cleaning Spray
GIY Soft Scrub with Dr. Bronner's